---
The Central Bank yesterday announced the demise of Former Central Bank Deputy Governor C.J.P. Siriwardana.
He passed away at the age of 62, on February 24th.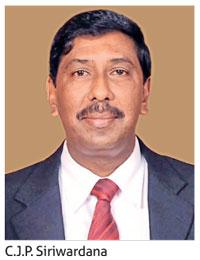 Siriwardana functioned as Deputy Governor of the Central Bank from 2017 to 2018.

With over 31 years of service at the bank, he was especially experienced in the areas of economic and price stability, financial system stability and agency functions.

In the capacity of Deputy Governor, Siriwardana supervised the departments of Bank Supervision, Supervision of Non-Bank Financial Institutions, Public Debt, Payments and Settlements, Finance, Secretariat, Information Technology and Security Services.

He was the Chairman of the National Payment Council, Financial System Stability Committee and Tender Boards of Treasury Bonds & Treasury Bills in addition to being a member of the Monetary Policy Committee, Inter Regulatory Institutions Committee and Non-Financial Risk Management Committee.
Prior to his appointment as Deputy Governor, he held the position of the Assistant Governor in-charge of Public Debt, Information Technology, Legal and Compliance, Macro Prudential Surveillance, Human Resources, Policy Review and Monitoring, Payments and Settlement and Risk Management Departments.

He had also functioned as Secretary to the Monetary Board of the Central Bank.

During his career as an illustrious central banker, Siriwardana rendered his contribution to various national and international fora representing the government of Sri Lanka and the Central Bank.

A brilliant scholar, Siriwardana was the holder of M.Sc. Degree and a Postgraduate Diploma in Quantitative Development Economics from the University of Warwick, UK and a B.Sc. Degree in Agriculture from the University of Ruhuna.

Cremation will be at the General Cemetery, Borella at 5.30 p.m. today (26th).