---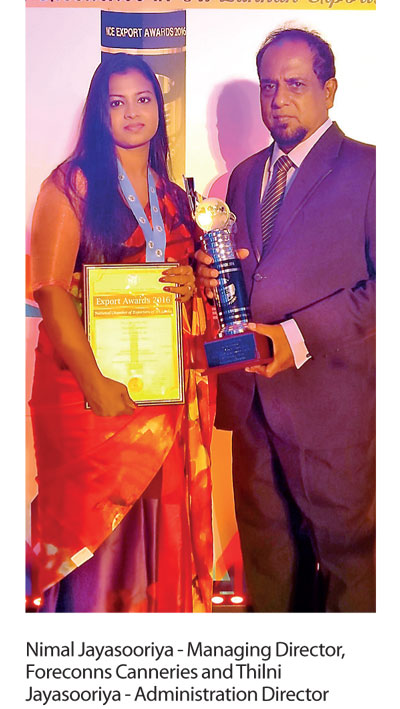 Foreconns Canneries, a leading exporter in food items with authentic Sri Lankan delicacies, was recently bestowed Silver Award in value added agriculture sector, small scale canned & processed food sub category, at NCE Awards – 2016 ceremony organized by the National Chamber of Exporters. .

With exports to many countries including Australia, Germany, Italy, Japan and UK under the trusted brand name Foreconns, the company is the first fish canning factory approved by the European Union to export fish based products together with SLS, ISO 22000 and HACCP standards. Foreconns Canneries has been one of the recipients of NCE awards continuously since 1998.
Foreconns offers a range of local dishes including fish ambulthiyal, fried dryfish and Sri Lankan curries and dishes such as jak, polos, breadfruit, cashew, katta sambol, seeni sambol, brinjal pehi and chutney etc. Precooked and canned fried rice (chicken, fish and vegetable) is also within their product portfolio. With global standard food processing in place, these products have a shelf life up to 2 years.

Founded in 1989, Foreconns Canneries is committed to customer satisfaction by offering high quality products and continuously focusing on researches in product development. Foreconns products are available at their sales outlet in Colombo 5.

"The rapid progress and popularity of Foreconns resulted in maintaining high quality with hygiene and safety on top priorities. It is a pride to have taken Sri Lankan food items to international markets and earned a name. This prestigious award reflects the dedication, courage and tireless efforts of our staff," stated Nimal Jayasooriya, Managing Director, Foreconns Canneries.