---
Fonterra Brands Sri Lanka, the dairy co-operative behind Anchor has invested Rs. 12million to enhance the quality of local milk supply by equipping its milk chilling centres around the country with the most advanced milk-fingerprinting technology for analysing milk composition.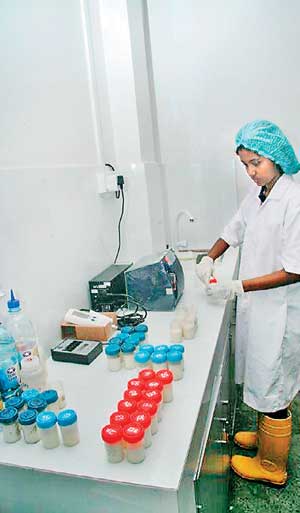 Introduced to Sri Lanka for the first time, this breakthrough technology called 'MilkoScreen' provides extremely accurate and reliable testing on the milk as soon it is delivered to the milk chilling centre, ensuring only the highest quality milk is accepted for processing.
Managing Director of Fonterra Brands Sri Lanka, Sunil Sethi said, "Producing the highest quality products for our consumers here in Sri Lanka and around the world is a non-negotiable. Each year we conduct close to seven million tests globally on our milk and dairy products to ensure they meet rigorous international and local standards.
"This new testing technology guarantees that we are collecting the highest quality local milk each and every time, ensuring we're delivering high quality dairy nutrition through our range of liquid and cultured products under the Anchor and Anchor Newdale brands."
Considered to the best testing equipment on the market, MilkoScreen tests the raw milk composition and can detect any abnormalities with the milk before it is accepted at Fonterra's milk chilling centre.
"This investment is the latest initiative as part of our commitment to uplift and create a more sustainable local dairy industry through higher quality milk production and more profitable dairy farmers," said Sethi.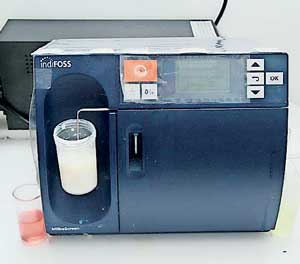 Over the last two years, Fonterra Brands Sri Lanka has invested Rs. 1.5 billion in the development of the local dairy industry and supports Sri Lankan dairy farmers by providing training and education through its network of Supplier Relationship Officers, the opening of the Demonstration and Training Farm in Pannala, and establishing state-of-the-art milk chilling centres in dairy communities.
Alongside Fonterra's development of the dairy industry, the Fonterra Grass Roots Fund, which was set up to support local dairy communities, has contributed over Rs. 33 million to community projects since 2014. Working alongside partners, Sarvodaya Shramadana Movement and Kansarmen Sri Lanka Foundation, the Fonterra Brands Sri Lanka team has completed 45 initiatives that continue to have a long-lasting positive impact, enriching the lives of more than 30,000 children, teachers, dairy farming families and community members.