---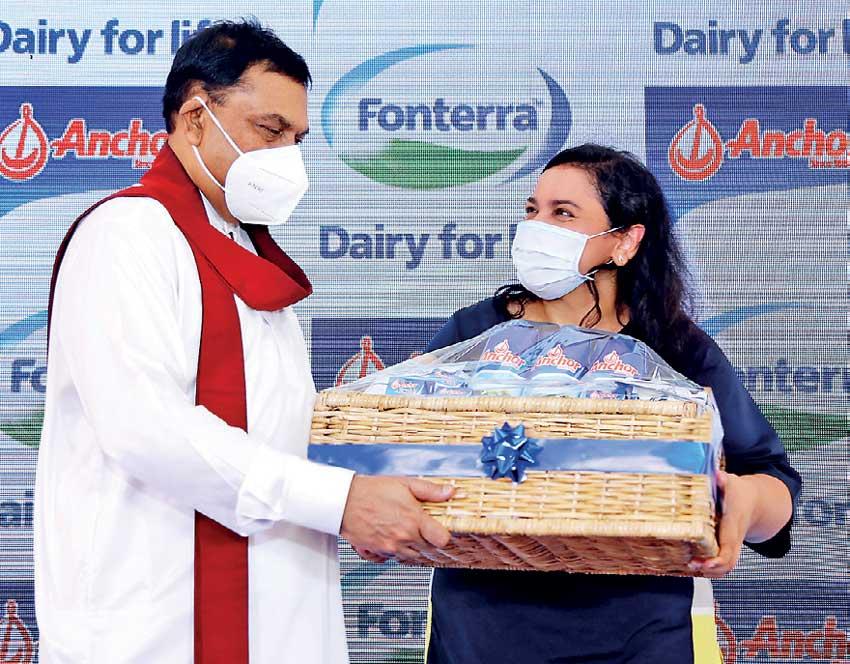 Basil Rajapaksa receiving value-added dairy export sample pack from Fonterra Brands Lanka's first Sri Lankan Managing Director Vidya Sivaraja
Aligning with the vision and the imperatives set out by the Presidential Task Force for Economic Revival and Poverty Eradication, Fonterra Brands Lanka is accelerating its export efforts of value-added dairy.

A sample batch of the value-added dairy products to be exported was handed over to Basil Rajapaksa, Chairman of the Economic Revival and Poverty Eradication Task Force.

This comes as a timely initiative by Fonterra in supporting the national priorities set out by the Presidential
Task Force.

Commenting on the occasion Rajapaksa said, "I appreciate the efforts made by private sector organizations in taking the initiative to support the economic prosperity of our country. Fonterra being a key player in international and local markets, I am encouraged to see the ways in which they are contributing towards the local dairy industry,"

"I am also pleased to witness their efforts to accelerate value-added dairy exports and hear their plans to strengthen this into the future," he added. Rajapaksa also handed over essential dairy equipment to some of Fonterra's small-scale local dairy farmers in appreciation of their efforts.
Rajapaksa witnessed first-hand the fresh local dairy processing capabilities and world-class technology that Fonterra houses locally to manufacture its portfolio of yoghurts, fresh and flavoured milk and drinking yoghurt – made with milk from its network of local dairy farmers.

Fonterra's newly appointed Managing Director for the Sri Lanka and Indian Subcontinent business, Vidya Sivaraja said, "We are encouraged and guided by the government's thought leadership, vision and clear direction to drive the nation forward towards prosperity, and we are striving to do our part to support this.

"Our country is rich in resources, talent and ingenuity. We are committed to championing this potential in line with the nation's priorities."