---
Long-timers Ajit, Ronnie retire
Gihan Cooray appointed Group Finance Director
Susantha to retire end of this year
Krishan and Gihan to be appointed Chairman and Dep. Chairman next year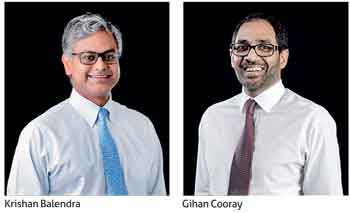 Sri Lanka's top blue chip John Keells Holdings PLC (JKH) kicked off the New Year with a flurry of board level changes with the retirement of Deputy Chairman Ajit Gunewardene and Group Finance Director Ronnie Peiris with effect from December 31, 2017.

Gunewardene had been a board director at JKH for over 24 years and Peiris joined the JKH board in 2002/03.

Replacing Gunewardene and Peiris would be Executive Directors Krishan Balendra as the Deputy Chairman and Gihan Cooray as the Group Finance Director.
A JKH stock exchange filing also announced the retirement of Chairman Susantha Ratnayake with effect from December 31, 2018 and the appointment of Balendera and Cooray as the Chairman and the Deputy Chairman respectively, with effect from January 1, 2019.

Balendra oversaw the John Keells Group's leisure sector and John Keells Stock Brokers. He also serves as the Chairman of Nations Trust Bank PLC and is the Honorary Consul General of the Republic of Poland in Sri Lanka.

He is a former Chairman of the Colombo Stock Exchange. He started his professional career at UBS Warburg, Hong Kong, in investment banking, focusing primarily on equity capital markets.
After a 4-year stint in Hong Kong, he continued his career in corporate finance at Aitken Spence PLC, Sri Lanka prior to joining JKH. He holds a law degree (LLB) from the University of London and an MBA from INSEAD. Cooray was responsible for the retail sector, the corporate finance and strategy division, group treasury function, John Keells Capital - the investment banking arm of the Group and John Keells Research. He is also a Non-Executive Director of Nations Trust Bank PLC.

Gihan holds an MBA from the Jesse H. Jones Graduate School of Management at Rice University, Houston, Texas.

He is an Associate member of the Chartered Institute of Management Accountants, UK, a certified management accountant of the Institute of Certified Management Accountants, Australia and has a Diploma in Marketing from the Chartered Institute of Marketing, UK.

He serves as a member of the Economic Planning Steering Committee of the Ceylon Chamber of Commerce.

Balendra and Cooray have also been appointed to the boards of John Keells PLC, Ceylon Cold Stores PLC, John Keells Food Products PLC, Tea Smallholder Factories PLC in Non-Executive Non-Independent Director capacities with effect from January 1, 2018.

Veteran planter Lalith Obeysekere has also been appointed to the board of Tea Smallholder Factories PLC with effect from January 1, 2018.

Meanwhile, along with Cooray, JKH long-timer Jit Gunaratne has been appointed to the boards of Asian Hotels & Properties PLC, Trans Asia Hotels PLC and John Keells Hotels PLC as Non-Executive Non Independent Director.

Guneratne was responsible for the consumer foods sector of the John Keells Group. Prior to his appointment as President, he oversaw the plantation and retail sectors.

His 38 years of management experience in the John Keells Group also covers leisure and property sectors. He is a director of Ceylon Cold Stores PLC and Keells Food Products PLCs and is also the President of the Beverage Association of Sri Lanka.

He is also a member of the Council of the Employers' Federation of Ceylon and member of the Food Advisory Committee of the Health Ministry.

Meanwhile, Incumbent Group Chairman Ratnayake has been appointed as the Chairman of Union Assurance PLC with effect from January 1, 2018 following the retirement of Gunewardene.