---
Targets cities and locations with congested and time-consuming road networks
Says it will help position air travel as viable and competitive transport mode within Sri Lanka
By Nishel Fernando
Fits Aviation Pvt Limited (FitsAir) is gearing to commence flight operations from unpaved dirt-strips, targeting cities and locations with congested and time-consuming road networks such as Kandy and Nuwara-Eliya.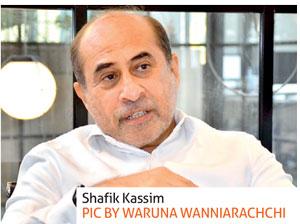 FitsAir is a member of Aberdeen Holdings Group of Companies, owned by the Kassim family, the former majority shareholder of Expolanka Holdings PLC.

"We have a plan to commence flight operations from dirt-strips. The Civil Aviation Authority (CAA) is looking at it very seriously now," FitsAir, Managing Director and Aberdeen Holdings Founding Director Shafik Kassim told Mirror Business.

If sanctioned, FitsAir plans to operate flights to Kandy, Nuwara-Eliya and destinations in the Eastern province and deep south during the day.

"For example, you can reach Kandy in 20 minutes. We are open to fly six times a day to Kandy," he said.
Kassim noted that these unpaved airstrips can be developed at low cost while ensuring the safety of aircraft landing, and they can be owned by the private sector, allowing the operators to offer flights to passengers at a relatively affordable rate.

FitsAir aims to offer more affordable air travel to passengers via dirt-strip flight operations to position air travel as a viable and competitive transport mode within Sri Lanka.

Further, it will benefit the country's tourism industry, by cutting down travel times within the country, and concerns regarding Sri Lanka's high number of road fatalities.
Kassim pointed out that it is a commonplace operation in a number of countries from Brazil, United States, Australia to developing countries such as Papua New-Guinea and Indonesia. In addition, it is also a popular option of travel in number of African countries, particularly among tourists.

As Sri Lankans are becoming increasingly time-conscious compared to past generations with the vale of time becoming more important, Kassim expects this initiative would generate ample demand from local passengers and travellers as well.

Further, he noted that areas surrounding unpaved dirt-strips would attract investments and generate new employment leading to economic development.

In 2020, Sri Lanka's domestic air passengers fell to 8, 960 from 24,313 passengers in 2019. The sector hasn't seen a considerable change since 2014 when the number of passengers rose to over 28,000 from 7600 in the
previous year.