---
Sri Lanka's first-ever country session for its exporters on the historic World Trade Organisation's (WTO) Trade Facilitation Agreement (TFA) will commence in Colombo today.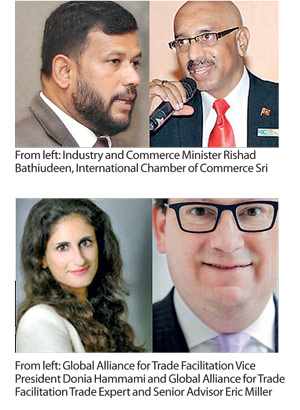 Global Alliance for Trade Facilitation (GATF) Vice President Donia Hammami and GATF Trade Expert and Senior Advisor Eric Miller are now in Colombo to address the session joined by International Chamber of Commerce Sri Lanka (ICCSL) Chairman Keerthi Gunawardane, Industry and Commerce Minister Rishad Bathiudeen and Economist Subhashini Abeysinghe.
The session is jointly steered by the ICCSL and GATF.
Hammami leads the ICC policy work in Customs and Trade Facilitation at the International Chamber of Commerce (ICC), the world's largest business organisation with a network of over six million members in more than
100 countries.
WTO's TFA, agreed in 2013, was the first multilateral trade agreement since the creation of the WTO in 1995. It came into force this February. The TFA was accepted by 112 member countries including
Sri Lanka.
"The focus of the session will be to tell our private sector of the impact of TFA for Sri Lanka and more importantly involve them in going forward,"
said Gunawardane.
WTO TFA provides a unique opportunity to promote inclusive growth by making cross-border trade easier, quicker and less costly for businesses of all sizes.