---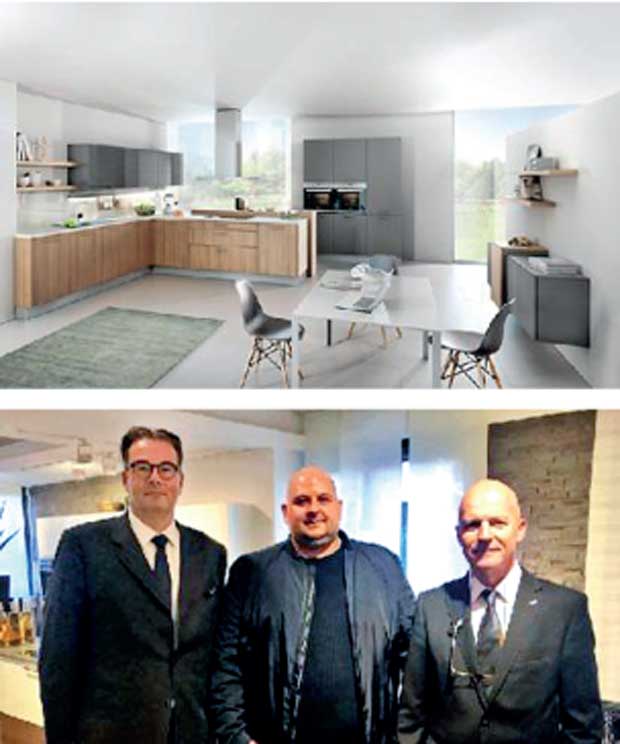 In September, Fine Furniture Chairman and Founder Martin Klement and Director Niluka Klement took their annual trip to Rodinghausen Germany to experience once again firsthand, what Hacker has in store for 2018.

It also gave Martin an opportunity to strengthen Fine Furniture's blooming relationship with Hacker Kitchen.germanMade and discuss a strategic way forward for the brand within the Sri Lankan market.

As always Hacker tends to shine exceptionally bright when it comes to innovation, quality and creativity and yet again 2018 looks to be another blinding success for the brand. In terms of innovation, amongst the new upgrades and features one of the more celebrated designs is a new range of wall cupboards with the new patented 'Slight Lift' technology, Slide - Lift - Lights On.

This new system is part of a floating style top cabinet and shelf with a dual layered front which allows one to open the cupboard by sliding the lower front vertically behind the upper front. To open the rest of the cupboard, simply slide both panels up together. This patented design matched with Hacker's quality standards guarantees not just a beautiful piece, but one that works like smooth jazz, classy. With focus on lighting for 2018, this cupboard contains some clever lighting features. When half opened an LED strip positioned under the upper front light up, embellishing the contents of the cupboard. When opened further the lighting switches from the LED strip to interior lighting providing the functionality of a well illuminated cupboard along with a comfortable experience for the user. 16 glass colors to choose from and three different heights.
In addition to the many new innovations like 'Slight Lift' 2018 will see the introduction of new finishes, surfaces and colors. For example, one of the new finishes which will interest our local Sri Lankan market greatly, is the 'Real Concrete' finish. Hacker Kitchens is the first and only manufacturer to have developed a concrete finish. Cupboards completed in this concrete finish have two options for the door finishes which are 'Real Concrete Natural' and 'Real Concrete Dark' including a whole new color palette that compliments this concrete look. Polar White, Ultimate Matt Black or shades of Oak and Graphite are some of the new choices available along with a new range of colors for laminates as well. Orange and Limette are the two standout colors because of their vibrancy and natural appeal that talks to a younger audience adding a little color to their kitchen.

These are just a few snippets of what can be expected from Fine Furniture in 2018 because as the sole strategic local partner for Hacker Kitchen.germanMade, Fine Furniture will have access to the latest catalogue and everything that is available, exclusively.

Checking out the new innovative designs for 2018 from Hacker Kitchen.germanMade was not the sole purpose for Martin's visit, but also to meet with Hacker Managing Director Markus Sander and Hacker South East Asia and Middle East Export Director Willy Kamm to discuss the strategic approach to Sri Lanka's market over the course of the next few years. The rise in positive spending has resulted in the demand for higher quality products and brands from a retail point of view. On the other hand, the exponential rise of construction projects has given Fine Furniture the perfect opportunity to provide these projects with a wide range of price options from the extremely high end to Hacker Smart solutions, the more cost-effective package.

Delving into deeper conversation of projects, Martin at Fine Furniture with the support of Hacker Kitchen.germanMade will be able to offer customized solutions specifically for each project, ensuring that Hacker Kitchens never lose their aesthetic value by overused designs and create individuality. Martin also got a chance to highlight some of the ongoing projects that have involved Hacker in Sri Lanka such as Shangri- La, Destiny 1 and Destiny 2, Achilleion, Clearpoint Residencies Signature and many more in the pipeline to be finalized soon.

HäckerKitchen.germanMade has an excellent track record in Sri Lanka and together with Fine Furniture the brand has been able to build up the trust of users who are looking for the perfect combination of form and function. This trust continues as Hacker strives to break its own boundaries and benchmarks of quality, innovation and safety.
Finally, Fine Furniture discussed the expansion of Hacker Smart, an innovative idea of making an affordable line of Hacker kitchens which will help increase market share and of course give more people the opportunity to be proud owners of a Hacker Kitchen. Expansion of the brand will begin with the Hacker Smart flagship store opening down Marine Drive followed by an active marketing plan to bring more people into Hacker's way of smart living.

From Rodinghausen to Colombo the journey has just begun and plans are underway to dazzle you with the latest from 2018. Fine Furniture has seen the future and the future is exciting.