---
The Finance Ministry yesterday denied the recent media reports quoting the Opposition parliamentarians to the effect that state-owned People's Bank would be privatised, saying such reports were completely "false and misleading".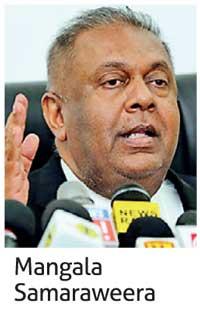 "Certain political parties and trade unions affiliated to those parties had alleged the government is to privatise People's Bank, citing financial difficulties to
infuse capital.

But there is no truth in these allegations and the government categorically dismisses this claim of privatisation as false and misleading the people, made with ulterior motives," the Finance Ministry said in a statement.
The Finance Ministry said the allegation was made following the proposal made by the ministry to amend the People's Bank Act No 29 of 1961, enabling the bank to increase the authorised capital and debentures to strengthen the financial stability and effectiveness of its operations.

"Once this amendment is passed in Parliament, the employees and depositors can get these securities and there is no intention to issue equity securities to outsiders," the statement said.
Finance Minister Mangala Samaraweera said the attempt by the Opposition political parties to portray the government is trying to privatise People's Bank is a "malicious attempt to hide political bankruptcy".

"The Budget 2019 speech made by me as the Finance Minister in Parliament had proposed on the needs to develop capital markets beyond bank financing," Samaraweera said.
"There is no attempt on the part of the government or Finance Ministry to privatise People's Bank as stated in the media statements," he stressed.