---
By Chandeepa Wettasinghe
More 'Sri Lankan-oriented' monetary policy will be hitting the markets soon since Central Bank Governor Dr. Indrajit Coomaraswamy is now speaking the same language as he is, Finance Minister Ravi Karunanayake claimed yesterday.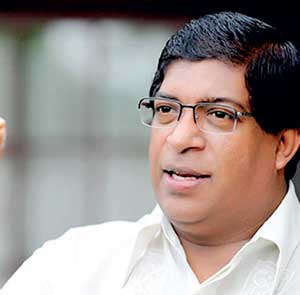 "I think the Governor has realized the political sensitivity, and we basically are talking the same language now, and you will see a tremendous change that will take place, as I think they (Central Bank) are realising where rectifications are required," Karunanayake told a media briefing held at the Finance Ministry, yesterday.
He said this after pointing out that there needs to be a more Sri Lankan oriented monetary policy emanating from the Central Bank. Dr. Coomaraswamy had spent a majority of his recent years at the Commonwealth Economic Office garnering international respect, although he has a sound grasp of Sri Lankan Central Bank operations, having been an official at the institution in the 1980s.
"When you look at inflation tendencies, management has been good, but from an interest perspective and a rupee stabilization process, it certainly requires a more professional, more human, Sri Lankan oriented approach," Karunanayake said.
The Central Bank is targeting low inflation through tighter interest rates.
Interest rates had to be increased to contain runaway credit growth, which was caused due to Former Central Bank Governor Arjuna Mahendran artificially slashing rates to facilitate increased aggregate demand under Karunanayake's populist 2015 interim budget, which gave away promised election goodies.
Karunanayake this week said the Central Bank was controlling the interest rates and not defending the rupee, which would not rebound after a depreciation, and cause distress to citizens who depend on imports for consumption.
Dr. Coomaraswamy last week said defending the rupee was nonsensical, since it would evaporate the foreign reserves that were required to repay past debt—debt which had been undertaken by Former President Mahinda Rajapaksa which Karunanayake consistently
complaints about.
Karunanayake, who admitted that monetary policy cannot be looked at just from the point of view of domestic affairs, however noted that monetary policy management has been disappointing compared to his management of fiscal policy recently, where revenues had
gone up.
"Success story of the fiscal (policy) is not shown in the monetary area," he said.
Karunanayake admitted that monetary policy management has improved under the steering of Dr. Coomaraswamy, compared to Former Central Bank Governor Ajit Nivaard Cabraal—skipping comments on controversy marred Mahendran, who was appointed by Karunanayake's government.
A number of local economists however have expressed their approval towards the Central Bank's current policies, since defending the rupee at the cost of reserves would in turn force the government to undertake more debt to support reserves.
Further, the policies also create a stable interest rate that is important for decision making, since the rupee would compensate for external shocks.
A depreciated rupee would help Sri Lanka's exports, which are required to create unborrowed foreign
exchange buffers.
However Karunanayake complained that exports had not boosted due to recent rupee depreciations.