---
REUTERS: The Federal Reserve will stick to a gradual path of interest rate rises even if inflation runs above its 2 percent target, Chair Janet Yellen said on Wednesday, signaling that the U.S. central bank is willing to use low rates to push down even harder on unemployment.
Yellen's comments were the one major surprise in the Fed's decision on Wednesday to hike rates by 25 basis points and likely lift them two more times this year even as the labor market improves and inflation firms.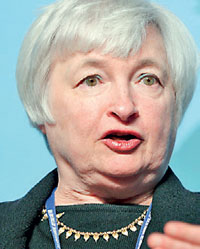 The comments also signaled that the Central Bank was confident it could rein in inflation, if needed, and that it has the credibility to do so in the event of a
sustained spike.
"It's a reminder 2 percent is not a ceiling on inflation, it's a target," Yellen told a news conference after the rate decision was released. "There will be some times when inflation is above 2 percent, just like it's been below 2 percent."
Inflation has ticked up globally after years of negative and near-negative rates and massive injections of Central Bank money into the financial system in a bid to head off deflationary forces. U.S. headline inflation is about 2 percent already, and core inflation - seen as a better measure of underlying inflation trends because it strips out volatile food and fuel prices -- is expected to reach 2 percent next year.
"They want to make sure they don't short-circuit the recovery," said Brent Schutte, chief investment strategist at Northwestern Mutual Wealth Management Company. "They are buying themselves some leeway in the future to let inflation tick higher and still not raise rates faster." Yellen'sterm as Fed chair has been marked by a cautious approach to raising interest rates, and her comments on Wednesday and in the Fed's policy statement suggest that the Central Bank is keen to avert a tightening of financial markets if data in coming months shows inflation above the bank's target.
Four years ago, then-Fed Chair Ben Bernanke triggered a bond selloff when he hinted at curtailing the Central Bank's bond-buying stimulus sooner than markets had expected. The 'taper tantrum' ended up delaying the Fed's planned return to a more normal stance of monetary policy.
Yellen did not specify how much of an inflation overshoot the Fed would tolerate, though past policymaker comments suggest that 2.25 percent or 2.5 percent inflation would be acceptable to the Central Bank.
"If we had a little inflation, would that be so terrible?" said Alice Rivlin, a former Fed vice chair now at the Brookings Institution. "It's something the Fed knows very well how to handle."