---
Fashion Bug, one of Sri Lanka's leading retail clothing stores clinched the Gold Award for 'Best Key Account Partner' for the fourth consecutive year at the recent Annual Sales Conference of Triumph International. In addition to the Gold Award, Fashion Bug also won the Award for the Best Key Account Branch (Colpetty Branch) of the Year at Triumph annual sales conference which is held every year and attended by its vast network of distributors and top performing retailers from all across the country. The aim of the conference was to highlight and reward their performance for 2016.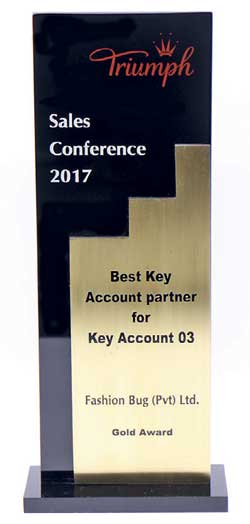 Concluding two decades of satisfying customers with an array of new styles and exclusive locations for lingerie shopping, Triumph is ambitious with bigger plans going forward. This annual event is more than just a tribute to recognizing those who contributed to its marketing success, as it reviews and rewards performance of its distributorship family.
As an equal opportunity employer, Fashion Bug prides itself on the fact that they invest in their employees, which they believe is a key to their success. "It is indeed a great privilege that we have been recognized and awarded for the fourth consecutive by Triumph International who has being one of our most valuable partners throughout the years. We look forward to enhance our deep partnership," said Shabier Subian, Director Fashion Bug. "It is yet another milestone for Fashion Bug and it is a testament to our flexibility, speed, and the strength of the cooperation between our organizations. Customer satisfaction is crucial for our success, and the partnerships we form with clients and suppliers are the result of successful collaboration, communication and truly caring about the people we serve," said Dr. S.H.M Faraaz – Deputy General Manager. Fashion Bug commenced its operations since 1994 as a partnership business with 4 partners and a staff population of just 15, and today it possesses over 17stores throughout the country with a workforce of over 1250 employees, and stands among the leading clothing stores in Sri Lanka catering with the fashion motto of 'changing lifestyles'.