---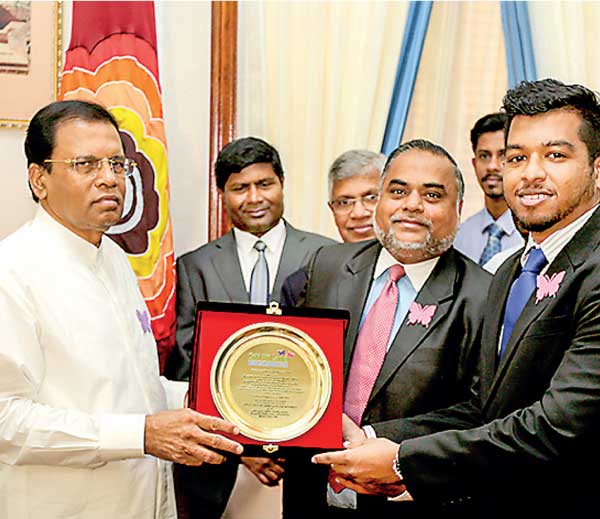 Award being presented to Shabier Subian Director Fashion Bug and Dr S.H.M Faraaz Deputy General Manager Fashion Bug by President Maithripala Sirisena
Fashion Bug, a leading Sri Lankan retail clothing chain with over 16 outlets island wide,
was honored for their Social Service activities rendered to society as a part of their Cooperate Social Responsibility (CSR) initiatives at a ceremony held at Presidents office on 4th October 2016.

An appreciation Award was presented to Fashion Bug for their service to build a better tomorrow. The award was presented by President Maithripala Sirisena at a ceremony organized by the Consumer Action Network Mental Health Lanka (CANMH Lanka) to mark World Mental Health Day which fall on 10thOctober .

Mental health education, awareness and advocacy programmes and initiatives are conducted with the very first World Mental Health Day being held in 1992 at the initiative of the World Federation for Mental Health, a global mental health organization with members and contacts in many countries.
This prestigious award was received by Director of Fashion Bug Shabier Subain and Deputy General Manager Dr.S.H.M Faraaz. In his address, the President thanked Fashion Bug for their tireless efforts to uplift the living standards of the needy and the marginalized in society .

Shabier Subain expressed his heartfelt gratitude to the President and CANMH for recognizing their efforts to build a better Sri Lanka. "This Award will definitely a boost our morale to double our efforts towards the upliftment of society".
"We thank all our customers, suppliers and staff who have been with us for the last 22 years and have helped us reach a pinnacle in our CSR endeavours " said Dr. S H M Faraaz .

Fashion Bug who have over the years been tireless in their CSR initiatives have several ongoing programmes which include the Kalubowila Hospital, the Maharagama Cancer Hospital, Fort Railway Station, Eye Hospital, Ragama North Teaching Hospital , the islandwide Sisu Dirimaga programme where over 1000 schools to benefit, the all island Career Guidance programmes, the Roo Siththam art competition, the drinking water project that was completed and presented to the Ovitigamuwa Maha Vidyalaya, the donation of the computer unit at the Thumbe Kanishta Vidyalaya, the sponsorship of the Dhammikka Kithulgoda scholarship foundation, and many more laudable programmes.

"Each Fashion Bug outlet works closely with its community. We have close links with the community centers and religious communities of all religions and we actively participate in and contribute to all their events. As part of the profits generated from a branch in a particular area are channeled towards the CSR project of that area, our customers who patronize that particular outlet are proud custodians of that particular project and feel that they too are working side by side with us," said Subian .