---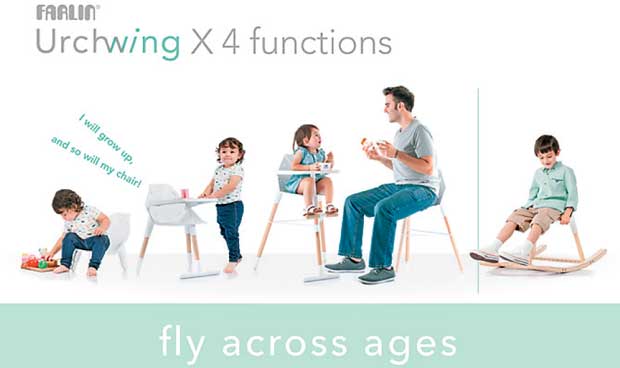 With a strong child focused mindset that has consistently enabled them to invent, Farlin has always maintained the lead in innovation. They have launched many firsts in the child and baby care industry, most of which have won prestigious design awards.
The newest addition to their range, The Farlin Urchwing High Chair has been recognized for its practical and easy design, which ensures that the child can continue to use the chair during the growing years, unlike the normal high chair. The name Urchwing is derived from the German word Urschwinge, which stands for Archaeopteryxan, the oldest known fossil bird. The slim legs and the flexible nature of the chair is said to mimic the bird's wings and feathers.
The chair is unique because it can be easily stored and assembled simply. It starts out as a high chair but can easily be made into a dining chair, a rocking chair, a baby dining chair and a low stool as the child grows, in keeping with changing behaviour patterns. It is designed to accommodate growing legs and has an innovative T stand that can withstand the growing weight of babies and toddlers.
The Urchwing chair can also support children and adults alike with a flexible seat made from recyclable polypropylene and a back that provides strong comfort and support. It is designed to encourage the development of motor skills and make dining a pleasant experience for the growing child.
The Urchwing chair won the iF Design Award 2016 for its outstanding design and exceptional grasp on the practical aspects of childhood. It blends beautifully into the growing cycle of babies into toddlers and young children, says Kiddies & Toys International (KTI) representing Farlin in Sri Lanka. The Urchwing Chair promises to be a worthwhile investment due to its lasting qualities.
The Urchwing Chair from Farlin is now available in Sri Lanka at all leading baby and childcare outlets.
For over 30 years, the Farlin product range has prized the comfort, ease and movement of babies and children, empowering them to develop products that take into account changing needs. Farlin understands not only the fluctuating childcare requirements but also the changes in the environment within which the child grows. As a result, their products always fulfill a felt need among babies and children.
The sole representative of Farlin in Sri Lanka, KTI has been successful in maintaining a consistent image as one of Sri Lanka's leading players in the baby and child care market – in a market that is growing by leaps and bounds, KTI remains focused on giving customers high quality products and well known brands names.