---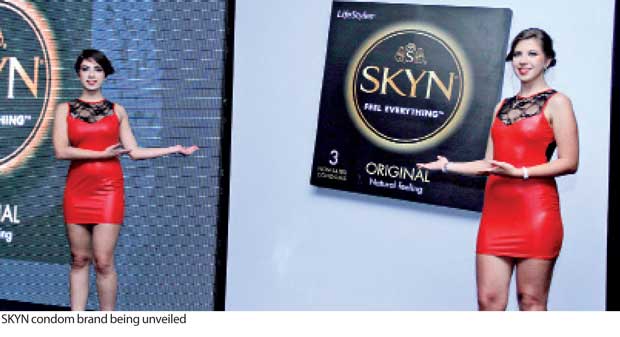 By Harshana Sellahewa
The Family Planning Association of Sri Lanka (FPA Sri Lanka) recently launched the latest 'SKYN' condom brand to its wide array of contraceptives, at a grand launch event held at the Shangri-La Hotel.

FPA Sri Lanka, founded in 1953, which pioneered family planning services in the country still remains the premier non-governmental organisation involved in promoting sexual and reproductive health and rights to all. Today, FPA Sri Lanka is headed by Chandima Gunawardena, President of the organisation.

Asiri Hospital Sexual Medicine Consultant Dr. Lasantha Malavige made the keynote address along with an informative presentation with benefits, drawbacks, as well as precautions on sexual conduct. The chief guest at the event was film producer/director and veteran actor Sanath Gunathilake.

Addressing the gathering, FPA Sri Lanka President Chandima Gunawardena stated: "Usage and marketing of a condom has been to some extent a grey market. People know what a condom is but they don't want to talk about it, and that has been impediment to society's progress of the usage of this product. The mission that I'm trying to give you is for all of you here to become ambassadors to take this message across and say this is no more a grey market area. This is something that is similar to buying a bar of soap before going to have a bath. You need this to make your immediate society, your family, your friends, lead a healthy and happy life."
The SKYN condom is designed using the very latest technology to give a truly intimate sexual experience. It is the first condom to be introduced to the local market that does not contain natural rubber latex, but instead is made from synthetic polyisoprene. It is therefore safe and suitable for people with a latex allergy or skin irritations.

SKYN condoms, manufactured in Thailand by Suretex Ltd and affiliated to Ansell, a global leader in protection solutions, are rigorously tested and manufactured in accordance with ISO 23409 and have been registered under the Drugs Regulatory Authority of Sri Lanka. They offer the same protection against unwanted pregnancies and HIV/STIs as regular
latex condoms.