---
The seventh meeting of the Bay of Bengal Initiative for Multi-Sectoral Technical and Economic Cooperation (BIMSTEC) Business Forum was held at Hotel Shangri La, New Delhi recently.
BIMSTEC involves a group of countries in South Asia and South East Asia. The countries are Bangladesh, India, Myanmar, Sri Lanka, Thailand, Bhutan and Nepal.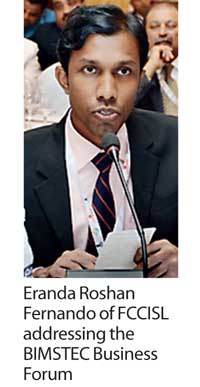 The seventh meeting of BIMSTEC Business Forum was organised by Associated Chambers of Commerce of India (ASSOCHAM) in association with the External Affairs Ministry in India and the BIMSTEC Secretariat, Dhaka. The inaugural session of the seventh BIMSTEC meeting Business Forum was held under the title '20 years to BIMSTEC: Charting roadmap for future'. External Affairs Ministry India Secretary East Preeti Saran. Bangladesh Foreign Affairs State Minister Shahriar Alam, BIMSTEC Secretary General Sumith Nakandala and other distinguished invitees participated in this business forum.
Speaking at the inaugural session Saran mentioned that BIMSTEC is at the crossroads of SAARC and ASEAN, which provides a natural convergence of the countries around the Bay of Bengal with strong historical and cultural linkages. Saran underscored the necessity to focus on sustainable development, modernization of fishing industry, improving financial cooperation and integration, tourism, better transport linkages by land, water and air among BIMSTEC member countries. The delegations from the founder members of the BIMSTEC Business Forum namely, Federation of Bangladesh Chambers of Commerce and Industry (FBCCI), Bhutan Chamber of Commerce and Industry (BCCI), Associated Chambers of Commerce of India (ASSOCHAM), Federation of Nepalese Chambers of Commerce and Industry (FNCCI) and Thai Chamber of Commerce (TCC) participated in the meeting.
In addition, the delegations from the Dhaka Chamber of Commerce and Industries (DCCI) and the Federation of Chambers of Commerce and Industry of Sri Lanka (FCCISL) participated in the Meeting as Associate Members of the Business Forum.
FCCISL Assistant Manager Eranda Roshan Fernando represented the Federation of Chambers of Commerce and Industry of Sri Lanka. At the forum he explained the FCCISL initiatives on climate change, disaster risk reduction, SME development, entrepreneurship development, capacity building and policy advocacy, etc.
Further, he pointed out the importance of promoting trade and investment among member countries by reducing non-tariff barriers.