---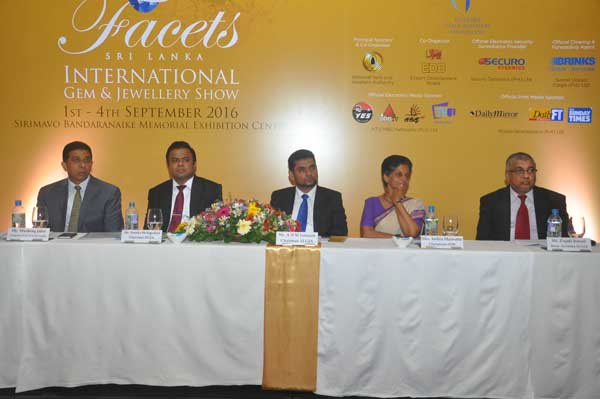 From left: FACETS Sri Lanka Chairman Mushtaq Jabir, National Gem and Jewellery Authority Chairman Asanka Welagedara, SLGJA Chairman A.H.M. Imtizam, Sri Lanka Export Development Board Chairperson Indira Malwatta and SLGJA Hony. Secretary Ziqufi Ismail
Pic by Kithsiri de Mel
By Zahara Zuhair
The 26th edition of the FACETS gem and jewellery exhibition, organised by the Sri Lanka Gem and Jewellery Association (SLGJA), is set to unfold in September from 1st to 4th at the BMICH.
This year's exhibition includes several novel developments such as the 'Premier Jewellery Pavilion', which targets high-profile buyers and buying delegations, many of whom are expected to come from Europe this year, and the 'Gem and Jewellery Mart', which would allow small and medium enterprises to showcase their best and rarest stones to any international market.

FACETS Sri Lanka Chairman Mushtaq Jabir said that FACETS Sri Lanka has now earned international recognition as the showcase event of Sri Lanka's gem and jewellery industry, which is one of the most important contributors of foreign exchange to the national economy. "To increase Sri Lanka's international profile, producers and wholesalers from other gemstone producing countries are invited to exhibit their gemstone products at the show, along with a sizeable number of local exhibitors," he said.

He said that FACETS Sri Lanka plays a pivotal role in making Colombo a regional gem and jewellery hub and Sri Lanka the 'Sapphire capital of the world'.

The objective of the show is to strengthen and promote industry development with special focus on the industry's prime resource, Ceylon sapphires as well as to increase sales of gemstones and jewellery products to overseas markets, attract more international buyers to Sri Lanka and facilitate a level playing field among the different industry segments while promoting fair trade.

SLGJA Chairman A.H.M. Imtizam said that they are working tirelessly to make Sri Lanka a gem and jewellery hub in the South Asian region and the popularity of FACETS has contributed very much to their goal.
National Gem and Jewellery Authority Chairman Asanka Welagedara said that to make this event a top topic in the region they have already worked on to bring in a Russian business delegation for the event as well from India
and China.

He said that through this they expect the small and medium enterprises would be able to make contacts with international businesses where they could gain a lot of knowledge.
Sri Lanka Export Development Board Chairperson Indira Malwatta said that being the fifth largest exporter, this sector can contribute immensely towards the national drive of getting the exports up.
"We also have invited a number of buyers and we have given them a three-night stay in Sri Lanka to encourage them to come. We want to attract buyers as much as possible," she said.