---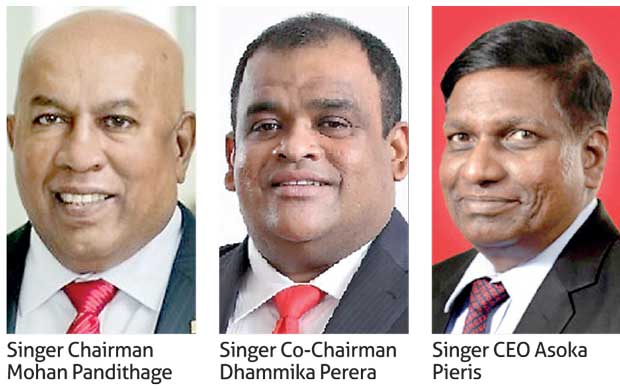 Consumer durables retail giant Singer Sri Lanka PLC reported subdued performance for the July-September quarter (3Q17), aptly demonstrating how difficult economic conditions have become and the decisive role of the weather gods

The company reported a 8.0 percent year-on-year (YoY) top line growth to Rs.11.9 billion during the quarter but the earnings fell to 27 cents a share or to Rs.100.1 million compared to 71 cents a share or Rs.265.5 million reported YoY. This translated into a profit decline of 62.3 percent YoY. Singer Sri Lanka share closed 10 cents or 0.22 percent lower at Rs.46.00 on last Thursday.

Singer Sri Lanka, which became a subsidiary of Hayleys PLC this September in a leveraged buyout said, its sales and margins were impacted by the challenging macro-economic conditions such as higher interest rates and Value Added Tax (VAT), which erased most of the people's disposable incomes.
The biggest blow to the company however came from the prolonged drought in the dry zone and floods in the wet zone, which destroyed both crops and incomes of the agricultural community.
Bounty harvest would result in higher incomes to the agricultural families, which account for almost 30 percent of the households, who will then stoke demand for television sets, stereo systems, refrigerators, smartphones and sewing machines.

Most of these sales occur on hire purchase through Singer's own finance company, Singer Finance Lanka PLC, but such sales depressed significantly during this quarter.

"It should be noted that the consumer durables industry, where Singer is present is more susceptible to market conditions than others. When customer income increases, the demand for consumer durables is above that of the general market demand and when customer income decreases the demand for consumer durables is below that of general market demand.

The third quarter was the worst affected, as it usually is driven by the harvest incomes. As a result, the third quarter revenue increased at a lower pace – by 8.0 percent", Singer Sri Lanka Group CEO Asoka Pieris said.

Singer Sri Lanka also had to absorb part of the higher VAT as the company, along its competitors, had to offer discounts to maintain sales. As a result, the group gross margin shrank 29 percent from 31 percent last year.

The increase in the share of low margin smartphones in the product mix also had an impact, the company said.

While the consumer electronic sales and home appliances came down slightly, this was offset by strong gains made in IT products sales and partly by the financial services and furniture sales to a lesser degree.

Singer is meanwhile growing its e-commerce business to supplement its brick-and-mortar retail business as the group may be assessing the growing online demand for its range of products.

Further the company is also planning big on growing its furniture business, perhaps borrowing a model from the global furniture retailing giant IKEA, as Pieris said he wanted to grow its furniture business 'exponentially with a wider range available to customers in a larger range of showrooms', as a key business initiative.

The company also said it plans to strengthen and enlarge the group's manufacturing operations with new factories, additional machinery and more advanced technology but fell short of providing any specifics.

Meanwhile significant increase in net finance cost— by 43 percent YoY— also weighed on the net profit of the group. The net finance cost rose from Rs.377.7 million to Rs.538.3 million in as a result of the higher interest rates.

Although the long-term borrowings of the group have come down by about Rs.5.0 billion during the 12 months to September, the short-term borrowings have spiked by about Rs.7.5 billion.

As at September 30, 2017, Hayleys PLC and parties in concert held 61.73 percent stake in Singer but by the end of the closure of its mandatory offer on October 31, Hayleys and its subsidiaries increased its control up to 82.81 percent stake.

On September 15, 2017, Hayleys PLC acting in concert with its subsidiaries purchased 231.9 million shares or 61.73 percent stake in Singer Sri Lanka for Rs.10.9 billion, partly funded by borrowings.

The interim report showed that 170.3 million shares or 45.34 percent stake acquired directly by Hayleys PLC had been on margins provided by National Savings Bank and People's Bank.

Retail Holdings (Sri Lanka) BV continues to hold on to 9.47 percent stake in Singer Sri Lanka, which the Hayleys group said they would buy in 12-15 months.