---
Thailand Central Pattana Honorary Chairperson and former Deputy Prime Minister Dr. Supachai Panichpakdi will deliver the keynote address at the Sri Lanka Retail Forum to be held on September 13, 2017, in Colombo.

Sri Lanka Retail Forum 2017, held under the theme, 'Winning the New Consumer: Energizing Retail', is organised by the Sri Lanka Retailers' Association.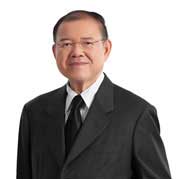 Dr. Panitchpakdi was Secretary-General of the UN Conference on Trade and Development (UNCTAD) from 2005 to 2013. Prior to this, he was Director General of the World Trade Organisation from September 2002 to September 1, 2005.

In 1986, Dr. Panitchpakdi was appointed as Thailand's Deputy Minister of Finance but when the parliament was dissolved in 1988, he left politics and became President of Thai Military Bank. In 1992, he returned to politics and became Deputy Prime Minister until 1995, responsible for trade and economics.

During the Asian financial crisis in November 1997, he returned to be Deputy Prime Minister and also became Commerce Minister. In March 2005, he was appointed to become Secretary-General of the UN Conference on Trade and Development (UNCTAD) following his term at the WTO, a post he took up in late 2005.

He was appointed for a second four-year term in September 2009. Keen to reform and revitalize the organisation, he has established a panel of eminent persons to oversee the start of reform of UNCTAD.

Dr. Supachai received his master's degree in economics, development planning and his Ph.D. in economic planning and development at the Netherlands School of Economics.

In 1973, he completed his doctoral dissertation under the supervision of Professor Jan Tinbergen, the first Nobel laureate in economics.

In the same year, he went to the Cambridge University as a visiting fellow to conduct research on development models.

He has published numerous books, including Educational Growth in Developing Countries (1974), Globalization and Trade in the New Millennium (2001) and China and the WTO: Changing China, Changing World Trade (2002, co-authored with Mark Clifford.

Those who wish to take part in this event may call on 115588852 or email to niroshini@chamber.lk.