---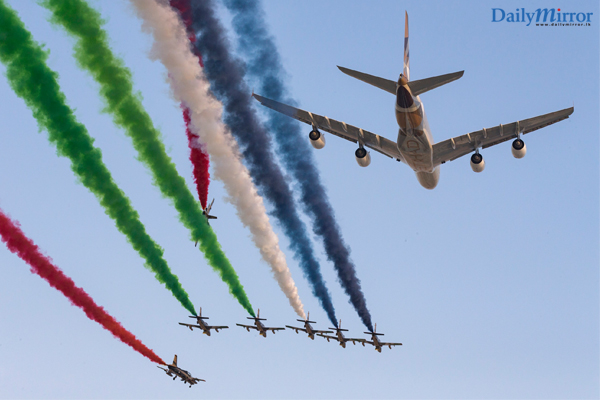 Abu Dhabi, United Arab Emirates – Etihad Airways, the national airline of the UAE, once again marked the start of the Formula 1 Etihad Airways Abu Dhabi Grand Prix with a low-level fly-past over Yas Marina Circuit.

The fly-past has become synonymous with the race with the flagship A380 aircraft flying over the iconic circuit at approximately 4.50pm. The A380 was accompanied by the Aermacchi MB-339NAT fast jets of the UAE's air display team, Al Fursan.

Captain Ali Al Jabri, an Etihad Airways A380 pilot and Vice President Corporate Safety and Quality, embarked on the flight for the seventh year in a row, and was joined by Captain Sulaiman Yaqoobi, Captain Adel Al Zubaidi and Captain Kian Siew Beh in the flight deck.

Captain Al Jabri said: "It's such an honour to once again conduct the fly-past which is watched by millions of viewers around the world and the thousands at Yas Marina Circuit."

The superjumbo – tail number A6-APD – passed over the start line and home straight of the circuit at 800 feet and travelling at 220 knots.