---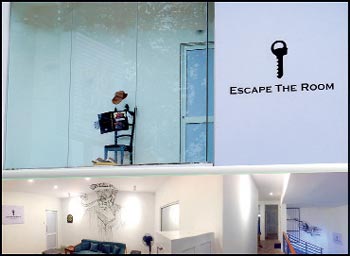 An escape room is the ultimate, interactive, live player strategy game, for those who want to engage their mental muscle, test their creative thinking and demonstrate their problem solving abilities.

The game commences when a group of 2-6 players, are locked in 'the escape room'. The room contains an assortment of expertly designed puzzles and hidden clues, which must be solved within the allocated time of 60 minutes. Cracking the puzzle before the time expires, which is the ultimate objective, enables the group to exit the room. The best timings are recorded, with the top competitors appearing in our 'hall of fame', which can be accessed at any time via our website or social media, so the world knows just how brilliant you are.

Now, for the first time in Sri Lanka you can experience the thrill of escape, with friends, family and colleagues. In addition to being an excellent source of group entertainment, Escape the Room also provides an exciting and innovative platform for teambuilding, business excursions, puzzle enthusiast and a novel occasion for bonding among friends and family.

The adventure is adult oriented, though the themes are also suitable for teenagers. However anyone below the age of 14 must be accompanied by an adult. Moreover, themes and storylines will be added intermittently, so as to offer fresh adventures and new challenges, sure to satisfy even the hardcore enthusiast.

To kick off the excitement, the first game on offer at Escape the Room will be 'Most Wanted: Dead or Alive'. The game involves you and your crew playing a group of outlaws in the Wild West. The sheriff has exited his station for an hour, giving you the perfect opportunity to get your hands on some loot. To complete the task successfully, you and your team must solve the clues, obtain the sheriff's pistol and escape before the 60 minutes run out.

The professionally-designed game promises fast paced, action packed exhilaration which requires you to think on your feet and be at your puzzle solving best. Hot on the heels of the Wild West Adventure, our next theme will take place in a completely different setting and involves a shipwreck. Book an hour of limitless fun and intrigue at Escape the Room. Which makes for a highly involved and immersive team experience and can be an amusing addition to any group outing, or even as a quick distraction during the week.