---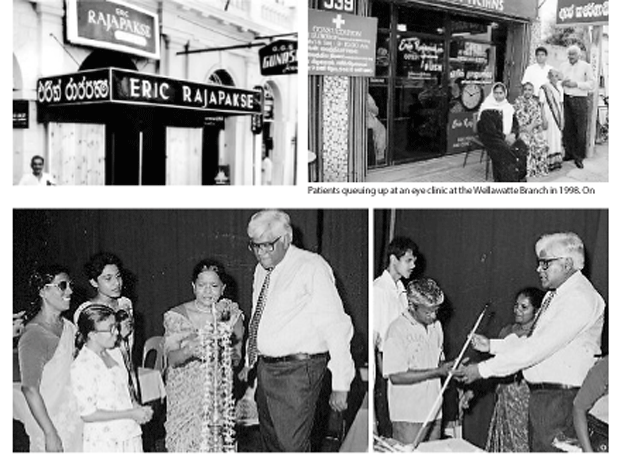 Eric Rajapakse Opticians is celebrating 100 years, making history as one of the country's oldest eye care brands in Sri Lanka.

When Alfred Rajapakse started Colombo Optical company in 1917, there was just a handful of other optical companies in the country. Eric Rajapakse moved the premises to Upper Chatham Street, establishing himself as a leading figure in the optical industry.

Rohan Rajapakse after him, opened many branches, in Colombo, Kandy, and Jaffna, expanding the business considerably. At the time, the company had a lens manufacturing plant in Ratmalana and a factory producing spectacle frames and were also agents for several prestigious retail brands such as Christian Dior, Dunhill, Pentax and Rodenstock. The company created the Eric Rajapakse School of Optometry, which has been instrumental in training many of the country's practising opticians.

Eric Rajapakse Opticians has been witness to the evolution of the optical industry in Sri Lanka. Starting out with a small number of long-established family companies, the industry has become more and more competitive with new companies entering the market.

Technological progress made electronic equipment and computerised processes a must, which also changed the way how optical companies functioned. The Sri Lanka Optometric Association, which was set up in 1961, has been involved in regulating, supervising and training its members and Eric Rajapakse opticians have been strongly involved since the beginning.

Brand awareness and easier distribution channels have contributed towards linking the optical industry with fashion and retail industry. "The availability of all international brands has brought fashion retail into the optical business," explained Managing Director, Rajeev Rajapakse. He went on to say that the added value, however, remained in the optometric service that they provide.

Understanding the customer's eye care needs, eye testing, dispensing ophthalmic lenses and providing a pair of spectacles that make people see better, are the essential features of eye care service. While technology has made that service faster, and more efficient, the optometrist's knowledge and experience make all the difference.

Eric Rajapakse Opticians have had a hand in training, moulding and inspiring a great number of opticians in Sri Lanka. "It is a great thing that many opticians, senior practitioners as well as new people, have worked with the company at some time," Rajapakse said, explaining that the importance of education and sharing knowledge was very strongly instilled in him by his father. Rajeev Rajapakse, who is the grandson of Eric and son of late Rohan Rajapakse, belongs to the fourth generation of the Rajapakse family.

The company continues as an established brand in a fast evolving market, and Rajapakse states: "We are proud to have had a hand in shaping the industry, as we will continue to do into the future."