---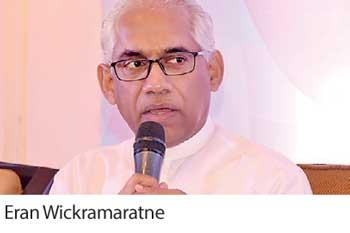 By Shabiya Ali Ahlam
Finance State Minister Eran Wickramaratne recently acknowledged the continuing lag in the implementation efforts in the country and said if at all there is an area to be picked for change, it would be the public service.

"If there is a single reform that I have to pick for the country, it is the public service," said Wickramaratne, at a panel discussion, during the launch of a World Bank report on Sri Lanka, held in Colombo recently.

Wickramaratne made this comment while acknowledging that the government, regardless of the regime, is weak in its implementation efforts,

which has led to the continuation of issues across diverse areas that could have been ironed out with faster reform and implementation efforts.

"Generally speaking, we are weak on implementation and partially this is to do with the training we get, even in the public sector," said Wickramaratne, attributing the slowdown of projects to poor human resource development in the public service.

Wickramaratne stressed that for implementation, what is imperative are training, investment and exposure, coupled with a comprehensive plan that would need to be carried out systematically for at least over a decade.

The minister opined that just as the private sector, the public service too could look at increasing emphasis in the training and development of its people for better and speedy service delivery.

Wickramaratne also asserted that implementation is 'not' in the hands of politicians, who are legislators but is largely the responsibility of the permanent government, which is engaged in the government service.

The public service has repeatedly come under harsh criticism for its inefficiencies in the execution and implementation of plans, despite the availability of resources and budgets.
The sluggish work pace is said to have led to lower productivity, which has spillover effects on the overall performance of the economy.

Taking the implementation of the 2018 budget into consideration, a study by economic think tank Verite Research revealed that the government is way behind its implementation schedule as only 8 percent of the budget promises were fulfilled.

The study points out that about 33 percent of the proposals presented in the 2018 budget were either not implemented, neglected or their status is unknown.

caption