---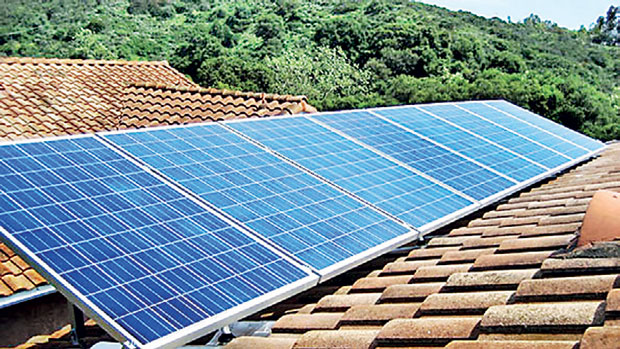 The electricity sector regulator, the Public Utilities Commission of Sri Lanka (PUCSL), yesterday directed the Ceylon Electricity Board (CEB) and Lanka Electricity Company Private Limited (LECO) to connect the domestic rooftop solar panels to the national grid within two weeks from the date of application.
"The direction to provide the connection for rooftop solar plants to the national grid in an efficient manner within a time fame will encourage people to move for solar power," PUCSL Director General Damitha Kumarasinghe said.The PUCSL has asked the CEB and LECO to provide an estimate for the net metering installation within one week of submission and payment of the application and to provide the net meter installation and grid connection within a week of receiving the payment for the net meter installation.
Kumarasinghe said that among Sri Lanka's non-conventional renewable energy sources, rooftop solar PV is considered as one of the fastest technologies that can be installed and integrated into the grid.
The PUCSL said that the aim is to add 200 MW of solar electricity to the national grid by 2020 and 1,000 MW by the year 2025.
"So far Sri Lanka has added about 42 MW of capacity to the national grid through domestic rooftop solar plants by the end of 2016," Kumarasinghe added. Data further reveals that up to November 2016, 7,904 domestic rooftop solar plants had been installed and connected to the national grid. The PUCSL said that 1,420 domestic rooftop solar plants were added through the government's 'Soorya Bala Sangramaya' programme, which was launched last year. Of the total, 4,806 are in the Western Province and 1,707 are in the Northern Province. Uva, the country's most impoverished province, had just 32 rooftop solar plants installed.
The PUCSL said that the government policy is to increase the existing 50 percent of the electricity generation based on renewable energy sources to 60 percent by the year 2020 and to increase it further up to 70 percent by the year 2030. It added that the government's aim is to generate the country's total energy requirement through renewable and other indigenous energy resources by 2050.
The country had faced major disruptions to power last year and there are concerns of a power crisis arising over the next two years, which has seen the PUCSL spurring the CEB to enact contingency measures.