---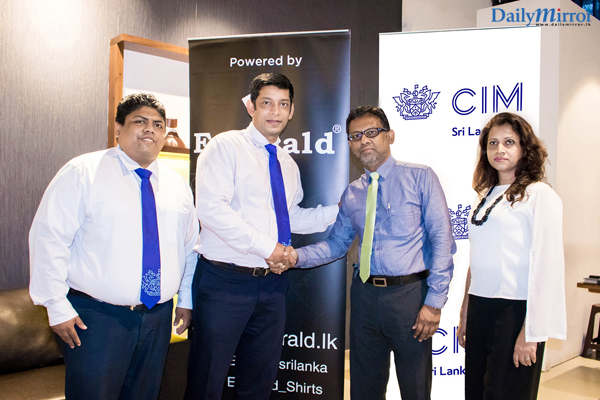 Standing from left – Sanjay Hettiarachchi Manager Membership Development of CIM Sri Lanka, Brian Selvanayagam, Chairman CIM Sri Lanka, Fazni Amanulla , General Manager Emerald International (Pvt) Ltd, and Kisani Dahanayake Senior Head Of Marketing & Business Development Emerald International (Pvt) Ltd
The Chartered Institute of Marketing (CIM) Sri Lanka entered into its second year of Corporate partnership with Emerald International (Pvt) Limited, one of the leading menswear brands in Sri Lanka, to further strengthen the knowledge and expertise of marketing in men's fashion. The Memorandum of Understanding (MOU) signed between CIM Sri Lanka and Emerald International (Pvt) Limited will also further strengthen their respective brand identities in the market.
Commenting on the partnership Kisani Dahanayake, Senior Head of Marketing and Business Development of Emerald International (Pvt) Limited, said, "We at Emerald are delighted to further strengthen our relationship and extend our support as a sponsor of a renowned professional body such as the Chartered Institute of Marketing Sri Lanka. It will be an ideal opportunity to sharpen our knowledge and skills as professionals in the industry in our unwavering commitment towards delivering the best to our consumers."
Brian Selvanayagam, Chairman of CIM Sri Lanka said, "We are proud to extend our partnership with Emerald and grateful to their continued support to help promote CIM and its activities in Sri Lanka."
Fazni Amanulla who signed the MOU on behalf of Emerald and Sanjay Hettiarachchi, Manager Membership Development of CIM Sri Lanka, were also present at the event.
CIM Sri Lanka is the first International branch of CIM UK and is the largest membership outside the UK. Celebrating its 20th Anniversary, CIM Sri Lanka has always campaigned for high professional standards, greater recognition for the profession and marketing excellence in Sri Lanka through education, training and development.
The Emerald Brand has continuously achieved substantial growth and brand leadership milestones through the years and proudly celebrates over 60 years of expertise in the industry. Continuing their leadership into the future, Emerald also offers their customers the convenience of shopping online via www.shop.emerald.lk and have their favourite fashion labels delivered to their doorstep. Customers also have the option of choosing between paying by credit/debit card online or with cash on delivery.
Founded in 1956, Sri Lanka's #1 Brand in men's shirts, Emerald firmly believes that the Sri Lankan male deserves nothing but the best and focuses on quality, reliability, and innovation to create shirts that meet its own exacting standards. With noted International designer Arun Kumar Tiwari spearheading product design, its ISO 9001 certified production units manufacture a diverse range of products including woven shirts, T-shirts, innerwear, and formal trousers for local and international markets. Emerald represents world renowned fashion labels such as Crocodile and drives new fashion trends in the men's shirt market through its Shirtworks retail outlets & the largest Dealer network in the country. Emerald is endorsed by Sri Lanka's world renowned cricketing icons Kumar Sangakkara and Mahela Jayawardena.