---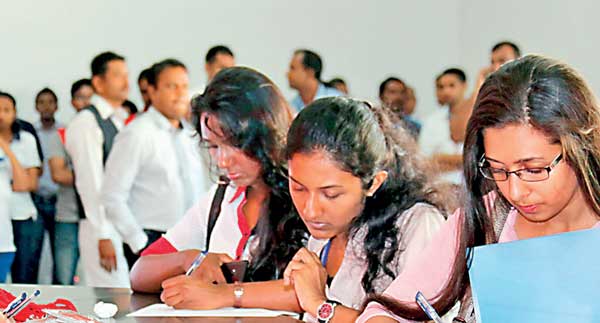 The British Council Sri Lanka was pleased to launch 'Opportunities' – a career and skills summit in its inaugural year to the public on March 5 and 6, 2016. Weeks of careful planning and teamwork came together at the SLECC (Sri Lanka Exhibition and Convention Centre) in Colombo to deliver a groundbreaking initiative to help the employable community of Sri Lanka. The summit achieved a record of almost 1000 registered participants and several hundred in footfall on the days.
Young and old from all corners of the island descended on the capital to benefit from the numerous activities and services provided at this event. Applicants registered online and chose from 10 of Sri Lanka's biggest corporate leaders including MAS, Dialog Axiata, Copal Amba, Hayleys and the main partner of the event, the Hirdaramani group. After a shortlisted or walk-in interview in state-of-the-art facilities, candidates could spend some time developing their crucial skills in one of the eight workshops delivered by professionals and repeated throughout the summit.
Psychometric assessments and English language assessments were also provided in separate areas of the summit and free to all who were interested, not to mention 'Corporate Leadership Talks', a venture which invited major corporate personalities to give a one and a half hour talk and Q&A to all interested participants who flocked to the summit for the chance to meet and interact with their corporate role models in person. Skype interview booths were set up to provide interviews to interested Sri Lankans working/ studying outside Sri Lanka, particularly those studying in the UK and were conducted at various points on Saturday and was able to reach out to interested parties with success.
British Council Manager Higher Education and Education Services Chamath Peiris said, "We were pleased to provide a comprehensive programme of activities to improve the employability of graduates and students in recognition of the need that people need more than merely qualifications to succeed in the private sector."
The event managed to reach and maintain a very high level of satisfaction amongst the candidates; in part due to the tireless efforts of the team to immediately rectify any issues or provide clarifications to candidates. Many participants approached team members on the day to thank them or share their good news especially when asked to attend a further interview with a company in question. The majority of the corporates expressed admiration and thanks for the initiative to introduce such an event and the opportunity to participate, citing as a collective that the event was value for money and a good building point for future summits. Many participants and corporates expressed interest in returning next year.