---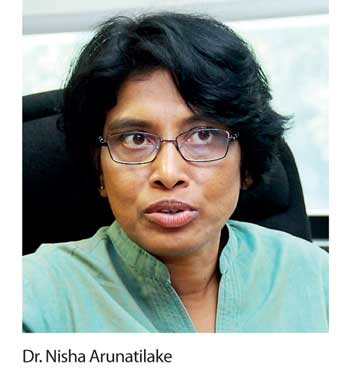 Archaic labour laws and lower educational spending are responsible for the top-heavy and ageing private sector and high unemployment among Sri Lanka's youth, an economist said recently.

According to Institute of Policy Studies Research Follow Dr. Nisha Arunatilake, the difficulty in laying off workers and high severance pay connected to laying off under the Termination of Employment of Workmen (special provision) Act No 45 of 1971, has resulted in a large number of older workers remaining in many companies.

"That is a problem for the younger, more talented, skilled workers to come in. The job market for them isn't there because the older workers are keeping the jobs," she said.

In the first quarter this year, within the 15-24 age group, the unemployment rate was 18.5 percent, which fell to 8 percent in the 25-29 age group.
The national unemployment rate was 4.1 percent. Labour force participation rates too were low in the ages below 24—possibly due to engagement in education.

Dr. Arunatilake said that the lack of opportunities also discourage the youth from further training their skills, while those who have better educational backgrounds go abroad in search of better prospects.
Youth are also not keen to join companies that are outdated, she added. She added that companies face challenges in growing their operations due to this situation.

"The companies don't grow with time because it's the same people who are always there. The younger workers are the ones who are learning the new technology and we also don't have an environment for the older workers to get retrained, like in other countries," she said.

She noted that adequate security should be provided for the unemployed to retrain themselves in a fast-changing technological environment, but that the unemployment benefits should not be unending.
"Some workers don't want to find work and they want to live off the unemployment benefits. You have to monitor people receiving unemployment insurance, to see whether they are looking for jobs and whether they're getting trained, because people would also try to play the system," she said.

However, Dr. Arunatilake noted that in Sri Lanka, it would be difficult to monitor this and alternative systems had been proposed.

"Companies already pay for EPF and ETF, so it was proposed to set up a fund like that, where when you're laid off, you're given relief from that fund. Then that is that person's money; so if they don't use it, they will get it at retirement," she said.

However, she noted that such proposals did not receive warm welcome from the existing employees.
"If a worker is in the company and guaranteed a job, they don't have to be productive. They just sit and wait for years and they're promoted," she said.

While the private sector trying to navigate rigid labour laws is one reason for frustration among the youth, Dr. Arunatilake said that a lack of educational spending by the government on schools in poverty-ridden areas is another reason.

She said that the government's preoccupation with national schools has left approximately 45 percent of the youth—mainly from poorer areas—failing in math and without desirable skills, which push them into low-paying, hard-working conditions, which they attempt to escape by getting into easy money-making propositions, such as driving a three-wheeler.

Dr. Arunatilake also noted that due to the limited number of educational opportunities available in national schools and universities, most children spend the entirety of their day in classrooms, preparing for the Grade 5 scholarship or A-Levels, instead of socializing or participating in sports, which imparts skills that employers demand. (CW)