---
By Chandeepa Wettasinghe
The economic relations among the South Asian Association of Regional Cooperation (SAARC) countries are "a bit of a joke" compared to China's proven track record of fuelling economic development within the South Asian region, a leading minister said recently.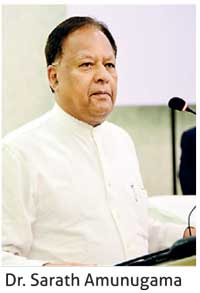 "As far as SAARC is concerned, we have not been able to get any liftoff when it comes to economic relations. It's a bit of a joke. It is time we spoke honestly with each other instead of verbiage," Special Projects Minister Dr. Sarath Amunugama said.
He made these comments during a seminar on Chinese geopolitics within the South Asian region, which was attended by academia and state officials from many Asian countries.
Dr. Amunugama's barbs come at a time when the relations among the SAARC members are also deteriorating, with many boycotting the recent SAARC summit, which was to be held in Pakistan.
Meanwhile, Sri Lanka is negotiating a new trade pact with fellow SAARC member India, while the gaps in the existing Indo-Lanka Free Trade Agreement (FTA) remain unresolved. Sri Lanka is also negotiating the setting up of a liquefied natural gas (LNG) power plant and an industrial zone in the North financed by India.
Negotiations are also underway to start an FTA with Bangladesh and revitalize the Sri Lanka-Pakistan FTA.
At a separate event organised by the Institute of Policy Studies (IPS) and Monash University yesterday, IPS Executive Director Dr. Saman Kelegama too noted that SAARC has not lived up to its expectations. Analysts note that the government is playing a balancing act between China and India—Asia's two largest economies—which are seeking influence in the island nation due to Sri Lanka's strategic maritime location. Dr. Amunugama said, "SAARC is fondling with each other", while stressing that "the commitment of China to the economic development of South Asia has not been just confined to words but positive interventions".
Many analysts are describing China's interest in developing nations as economic warfare— gaining leverage to counteract western influences on its way to becoming the world's largest economy.
Meanwhile, Dr. Amunugama pointed out that the SAARC Bank has just US $ 1 billion—mostly contributed by India—compared to the multibillion dollars needed for infrastructure development across South Asia.
He also noted that Pakistan and India had been flexing their nuclear deterrent muscles recently, compared to the peaceful development process followed by China.
"The political will of China (is) to ensure peaceful economic growth and development," he said.
However, China has been observed projecting military force in its attempts to claim multiple resource rich or strategically located islands across the South China Sea, which have traditionally belonged to countries such as Japan, the Philippines and Vietnam.
Dr. Amunugama further added that China has a very special interest in the economic development of Sri Lanka and other Asian countries.
Sri Lanka is part of China's 'String of Pearls' strategy, which seeks to revitalize the traditional maritime silk road towards China's future energy security.
"China has invested heavily on infrastructure development in South Asia and I must agree with his Excellency (the Chinese ambassador), that very often, at least in Sri Lanka, this has been misunderstood," he said.
Finance Minister Ravi Karunanayake has repeatedly accused the past government of taking high-interest commercial loans from China, which had drawn criticism from the Chinese ambassador, creating a major diplomatic incident late last year.
"They (Sri Lankans) aren't aware of the facts regarding interest rates, regarding the terms of repayment, regarding the very accommodative approach taken by the Chinese government, regarding the possible changes in the type of management and ownership of these ventures," Dr. Amunugama said.
"Other Chinese banks EXIM Bank, CDB have been positive and terms and conditions have been highly competitive," he added.