---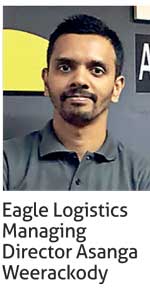 Supply chain logistics provider Eagle Logistics stepped into express business this week under the brand name of Eaglex.

Eagle Global Express (Pvt.) Ltd will be the new entity for Eaglex which will be operated from five locations in Sri Lanka having the head office at Colombo 01.
Eagle Global Express is an Eagle Logistics company with a vibrant group of individuals with profound familiarity in express business and they will be offering international courier services in Sri Lanka from and to any part of the world.

Managing Director Asanga Weerackody said that delivering the goods on time is one of the biggest challenges in e-commerce business, and e-commerce is one of the fast developing buying patterns in the world. So due to this reason all the companies look forward to improve their supply chain process by reducing cost and the time in logistics while controlling the inventory. "We, being a logistics company who understand supply chain management, decided that express business is one of the top requirements in the current marketplace. This is the reason we decided to expand our business in to express courier trade." Also, he mentioned that Eaglex will be headed by Rienzie Johar, who has been in the express business for last 13 years and he has got the right experience take the company to a higher place and that their aim is to become Sri Lanka's most professional logistics company for digital commerce.