---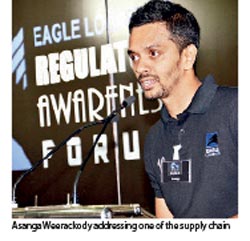 Eagle Logistics Colombo has become the first 4PL provider in Sri Lanka to be involved with many corporate customers and be an integrator that accumulates resources, capabilities and technologies to run complete supply chain solutions.

Eagle Logistics has proved their customers that Outsourcing noncore activities can improve efficiency, streamlining and productivity because Eagle Logistics can performs logistics tasks better than the firm itself. This strategy may also lead to faster turnaround times, increased competitiveness within an industry and the cutting of overall operational costs.

Shipping desk Solution is one of the product they offer in 4PL to Sri Lankan customers where they run the total logistics in supply chain process from the time customer issue a purchase order to the time GRN raised.

Asanga Weerackody, Managing Director of Eagle Logistics said, "Most of the global Companies willing to consider a 4PL arrangement is due to internal cost pressures and the strategic importance of logistics activities. One of the reason being it takes talent and time to establish a logistics department and proven network. When these two variables are not aligned to provide a response to a competitive opportunity, the 4PL model can be an excellent alternative. This is where we provide the operational expertise and make the process smooth. This allows our customers to invest in its core businesses and let our team make the necessary outlay to keep its logistics capabilities world-class." Further he said, 'We understand the importance of supply chain and this is why we are with institute of suppliers and material Management (ISMM) for a long time as an institutional member'.

Today Eagle Logistics is the 4PL provider for Unilever, Nestle, Hemas Manufacturing, Analytical Instruments, Eskimo Fashions, American Embassy and Associated Batteries.