---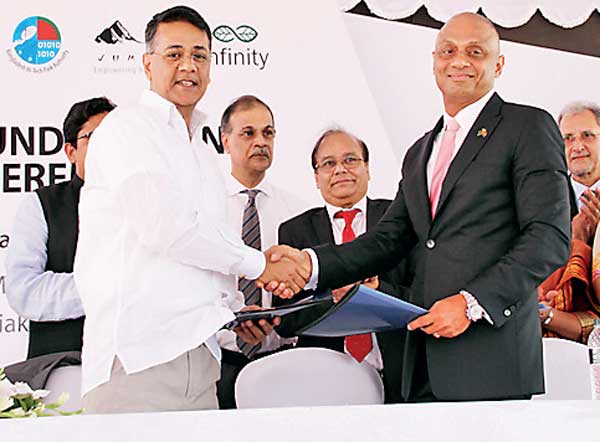 By Chandeepa Wettasinghe
Local digital device manufacturer EWIS Colombo Limited (EWIS) entered into a joint venture with Bangladesh's Tech Manufacturing Co. Ltd. to set up a manufacturing plant in Bangladesh with investments which will eventually run up to US$ 50 million.

"The initial investment will start with US$ 2 million, and it will go up to US$ 50 million in the next 5 to 7 years," EWIS Consultant Kiren Shenoy said.

EWIS Chairman/CEO Sanjeewa Wickramanayake said that EWIS will have a 55 percent ownership of the shares in the joint venture, named EWIS Tech Manufacturing Company.
"The initial funds will be internal, but going forward, we will be looking at maybe going public for the rest," he said. Wickramanayake added that construction will take about 1 year, but that Microsoft and Intel have already agreed to come on board the project.
The 50,000 square feet manufacturing facility will be set up within the 232 acre Kaliakoir Hi-Tech Park, on which development started recently. The park has been broken down into 5 blocks, with one Bangladesh company investing over US$ 200 million to develop 2 of them . "They want this Hi-Tech park to support the digitalization of Bangladesh. They are interested in knowledge transfers from Sri Lanka. We saw the growth opportunity and wanted to go there," Wickramanayake said. Many Sri Lankan companies have already capitalized on Bangladesh's growth by venturing into its apparel, healthcare, retail and energy sectors over the years.
The EWIS Tech manufacturing facility will assemble laptops, smart phones, tablets and desktops—the same product mix EWIS assembles in its factory in Sooriyawewa. EWIS currently manufactures over 400 devices daily in its local facility, which has 2 production lines. The Bangladeshi facility will feature 4 production lines following the total investment after 5 years.
The company recently started to manufacture motherboards in Sri Lanka, and Wickramanayake said that the Bangladeshi assembly plant will utilize these locally manufactured chips. Shenoy said that the plant will generate around 300 employment opportunities at the start, and will continue to double every 6-12 months. "The top management will be Sri Lankan. Just like how when we started we got foreign expertise, we will be going and training them.
We'll be getting around 4-5 visas," Wickramanayake added. He said that EWIS will begin exporting to Bangladesh until the production plant comes online. He revealed that EWIS may enter Zambia similar to how has gone into Bangladesh, as Zambian companies have reached out with an identical proposal.