---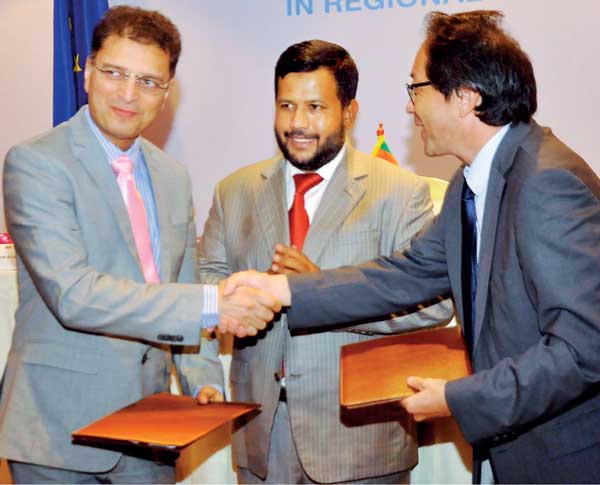 ITC Country Programme Director Ashish Shah (left) and Delegation of the European Union to Sri Lanka and to the Maldives, Ambassador and Head of Delegation Tung-Lai Margue shaking hands (right) in the presence of Minister of Industry and Commerce Rishad Bathiudeen (centre)
Pic by Waruna Wanniarachchi
By Zahara Zuhair
In order to help Sri Lanka increase its trade competitiveness both in regional and European markets, the European Union (EU) launched a Rs.13 billion project in Colombo this week.

It will be implemented over a period of four years by the International Trade Centre (ITC) and the United National Industrial Development Organisation (UNIDO) in collaboration with the Sri Lankan Department of Commerce.
The financing agreement in this regard was inked on 16 March 2016, between the Commissioner for International Corporation and Development Neven Mimica and Finance Minister Ravi Karunanayake.
It was noted that under the project specific attention will be given to enhancing value chains in the spice, food, and IT Business Process Outsourcing sectors.
The Delegation of the European Union to Sri Lanka and to the Maldives, the Ambassador and Head of Delegation Tung-Lai Margue said that the project is a national request made by the Sri Lankan government at Brussels, to provide trade related technical assistance. He said the project is designed with the aim of improving competitiveness gaps and expanding international trade.
Minister of Industry and Commerce Rishad Bathiudeen said that as the government wanted to expand global trade by entering into many new and powerful free trade agreements (FTAs) while positioning small and medium sized enterprises (SMEs), exports and value chains to become growth drivers in the economic development roadmap, the Rs.13 billion project is a timely intervention that catalysed Sri Lanka's accelerated journey towards the upper ranges in global middle income ranks.
As the expansion of exports remains a prime objective of the government, he said, however the country continued to face rising trade deficit, owing to increase imports and decline in exports.
He also said that the overall trade between the two trading partners (SL and EU) had increased from Euro 3.8 billion in 2014, to Euro 4.7 billion in 2015, an increase of 27 percent.
"European Union continues to be the number one export market for Sri Lanka, exports accounting for approximately 32 percent of Sri Lanka's total exports to the world," he said.
Ministry of National Policies and Economic Affairs Secretary M. I. M. Rafeek stressed the need of a coherent trade strategy, to enable SMEs to participate more dynamically and pro-actively in the trade led development body.

ITC Country Programme Director Ashish Shah said, SMEs in Sri Lanka, like in most developing countries faced critical constraints to their growth and the key to help these countries was to unlock those bottlenecks.
"The constraints are wide-ranging, they are related to non-conducive polices and regularity environment for SMEs, weakness in the institutions environment for providing business support service for SMEs," he said.

He said that this project posed a comprehensive approach to address these constraints. "More specifically these projects will help, Sri Lanka to implement a forward looking SME focused trade strategy," he said.

As 80 percent of businesses in Sri Lanka are SMEs, representing 35 percent of total employment, he said that strengthening the export capacities of SMEs in sectors with high potential for job creation is therefore a critical contribution to ensuring inclusive growth in Sri Lanka.
"For trade to flourish and achieve its full potential, it is important to focus on small and medium sized enterprises," he said.
Meanwhile, he said that existing factory infrastructure, skilled and unskilled workers, attractive wage cost structure and logistical linkages make Sri Lanka an attractive location for production and investments.

In addition, he said Sri Lanka is the only country to have FTAs with both India and Pakistan, giving duty free access to a market of 1.3 billion consumers, adding that Sri Lanka is ranked as the most liberalised economy in South Asia.

UNIDO Chief Standards and Trade Facilitation Division Steffan Kaeser said that Sri Lanka today demonstrates full compliance with the international trade related standards and has increased access to the international market.

He said that Sri Lanka's quality infrastructure is the key catalyst for improving the quality and the compliance of products and services on a national scale and along entire value chains.
"By improving this essential part of the business environments for national industry, national quality infrastructure increases the competitiveness of the nation's economy, makes attractive at the same time for foreign investments and ultimately it increases the ability to integrate to global trade value chains," he said.