---
By Yohan Perera
The General Manager of state-owned Lankaputhra Development Bank, Lasantha Amarasekera has been removed from his post with effect from today (July 1).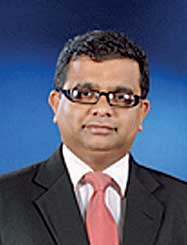 Amarasekera told Mirror Business that he had received the letter of termination, stating that was terminated due to inefficiency.

"I have been told that my termination was due to inefficiency, but to my knowledge this is not the real issue," he said while highlighting that a difference in opinion between him and the Chairman Lasantha Gunawardene would have been the real reason.

"There was a certain fraud with regard to a bank transaction, and the internal auditors had already begun an investigation, backed by me. However, the other high ups of the bank had a different opinion and wanted the investigation stopped, and I strongly feel this could be the reason for my removal," he added.
Chairman Lankaputhra Bank Lasantha Goonawardena who commented on the matter said the General Manager was terminated because he had failed to reduce the non-performing loan percentage of the bank during the past years.

"It has become impossible to recover loans given during the past few years with his endorsement," Goonawardena noted.

He said such instances had been revealed through several investigations carried out by a 3-member committee appointed by the authorities and the auditors of the bank. "There was no politics involved in the termination," he stressed.