---
Former Singularity University Ambassador Dr. Clarence Tan will be giving the keynote address at Asian Business Angel Forum (ABAF) 2017, to be held in Sri Lanka for the first time on October 11, 2017.

Founded by Dr. Peter Diamandis and Dr. Ray Kurzweil, Singularity University is an academic institution that seeks to harness some of the world's sharpest minds.

Dr. Tan will speak on the topic, 'Exponential Technology Reshaping Future Start-ups'.

ABAF 2017 speakers
Singularity University Former Ambassador Dr. Clarence Tan (Australia)
Guangzhuo Israel Biotech Fund (GIBF) Chairman Dr. Yehoshua (Shuki) Gleitman
Hong Kong Business Angel Network (HKBAN) Chairman Dr. Samson Tam
Business Angel Network South East Asia (BANSEA) Chairman Dr. Mark Hon
Google VP SEA and India Rajan Anandan
Wadi Accelerator Investment Committee Member Pankaj Jain (USA)
AngelVest Co-Founder/Harvard Business School Alumni Angels of China Founding Chairman David Chen
Go Beyond Early Stage Investing Founder and CEO Brigitte Baumann Gervais (UK)
ABAF Chairman/Melbourne Angels Jordan Green
Indian Angel Network (IAN) President Padmaja Ruparel
Aavishkaar Partner Sanchayan Chakraborty (India)
Jungle Ventures Managing Partner Jayesh Parekh (Singapore)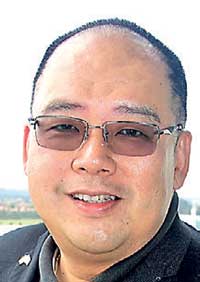 The ABAF is Asia's largest annual start-up investor forum, attracting premier business angels, venture capitalists, entrepreneurs, policymakers, government officials and other like-minded high-net-worth individuals to one central networking platform.

The forum has been held successfully across Asia ever since its inaugural event in Singapore in 2010. Venture Engine's 2017 finale also plays an important role at the ABAF's programme, taking up one full day of the proceedings.

Past ABAF conferences have typically welcomed 250 prominent business personalities, including as many as 50 investors, from the Asian region as well as the Asia Pacific and Middle East.
"There will be over 25 start-ups from Venture Engine showcased for the ABAF 2017 delegates. Interestingly, this year's Venture Engine applications consisted mostly of post-revenue companies, where some were at the Seed Investment stage, while others were looking to secure Series A funding, a key indicator of the increasing sophistication of our market," noted a founder member of the Lankan Angel Network, the host organisation for ABAF 2017.

ABAF 2017 will also comprise sessions on 'Facilitating Cross Border Investments between Angel Networks', 'Global and Regional Start-up Trends', 'Driving Exits' and 'Impact Funding'. An in-depth agenda and other details are accessible via www.lankanangelnetwork.com/ABAFColombo.
"ABAF 2017 will display a start-up corner where past participants of Venture Engine programmes will be showcased. In addition, we are giving an opportunity to a limited number of start-ups wishing to showcase their products or services to over 200 local and overseas delegates. If interested, email us at info@lankanangelnetwork.com on or before September 15, 2017," the founder member added.
Kicking off on October 11, at Cinnamon Lakeside, the ABAF follows the sixth edition of Venture Engine, the country's trailblazing programme for entrepreneurship acceleration and empowerment, which will be held the previous day. Venture Engine participants, both past and present, will also benefit from the once-in-a-lifetime opportunity to directly access, via the ABAF, investments, expertise and mentoring offered by well-respected individuals in the field of global finance.

Emphasizing the ABAF's 2017 theme of 'Crafting the future', the conference offers valuable analysis of what is trending in the regional and global start-up scenes. It also provides extensive technical training and panel discussions offering insights in many vital areas.

A strategic partner for this year's Venture Engine, the Lankan Angel Network is the host of ABAF 2017. The Lankan Angel Network is Sri Lanka's pioneering Business Angel Network with over 75 member investors who have collectively invested over Rs.2 billion in 25 local start-ups, while Venture Engine is a product of a 2012 collaboration between BOVCapital and the Indian Angel Network.
For 2017, venture capital firm Aavishkaar serves as Venture Engine's Platinum sponsor, while Orion City is the Silver sponsor and Dialog Axiata is the Official Telecommunications sponsor. Visit www.ventureengine.lk for
more details.