---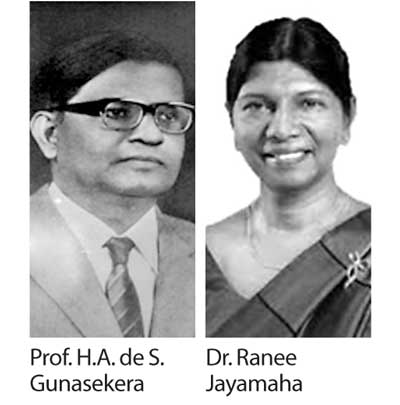 Prof. H.A. de S. Gunasekera Memorial Oration 2016 will be held on Friday, November 11, 2016 at 4:00 p.m., at the Senate Room, University of Peradeniya. The oration will be delivered by former Central Bank of Sri Lanka (CBSL) Deputy Governor Dr. Ranee Jayamaha on the topic 'World Financial Crises and Challenges to the Governance Structures of Central Banks'.

Prof. H.A. de S. Gunasekera was Professor of Economics and University of Ceylon Economics and Political Science Department Head. He succeeded Prof. Das Gupta to become the second occupant of the Chair (and the first Sri Lankan) in the department in 1961.
He also served as Faculty of Arts Dean at Peradeniya (1963-1969) and later on as Planning Ministry Secretary (1970-1977) under Prime Minister Sirimavo Bandaranaike. He was a much respected academic and public servant. A large number of his students have made outstanding contributions to both academic and public life in Sri Lanka and overseas.
Dr. Jayamaha has more than 45 years of experience in the banking and finance field, of which nearly 38 years were spent at the CBSL. During her tenure at the CBSL, she also served as Secretary to Presidential Commission on Finance and Banking, Advisor to Finance Ministry, Special Advisor (Economic) to Commonwealth Secretariat, London, Advisor on Payment Systems to Central Banks of Bangladesh, Brunei, Bhutan, Iran and the Maldives, Member of Global Payments Group of the World Bank among other national and international positions.

The oration is organised jointly by the University of Peradeniya Economics and Statistics Department and Prof. H.A. de S. Gunasekera Memorial Trust Fund. The event is free and open to the public. Please RSVP to HAdeSoration@gmail.com (Lakshika) or 081-2392622 (Eranga).