---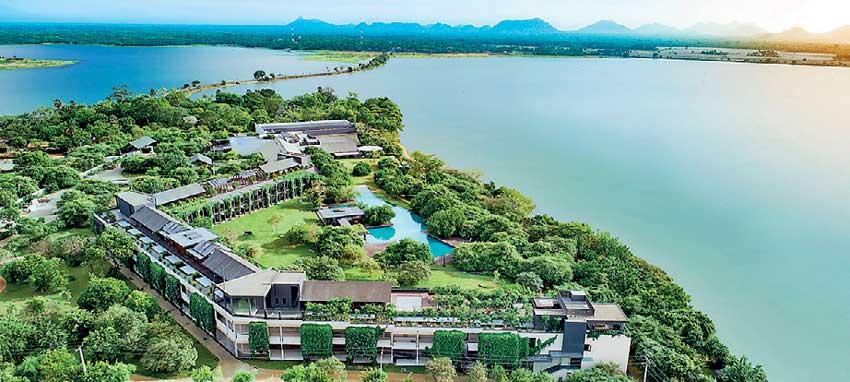 Third hotel to be managed by Hilton in Sri Lanka
Developed with an investment of Rs.4bn
Once 2nd phase completed, investment to go up to Rs.6bn
Sri Lanka's hospitality sector recently saw the addition of a new luxury property to its portfolio with DoubleTree by Hilton opening the first phase of Weerawila Rajawarna Resort.

Owned by KDU Adventures, the latest addition of Hilton in Sri Lanka is a three-story, 78-room modern resort.
Weerawila Rajawarna Resort is the third hotel to be managed by Hilton in the country.

The new property was developed with an investment of Rs.4 billion.

The total investment is expected to cross Rs.6 billion with the completion of the second phase, which will bring the total number of rooms of the resort to 140. "We are thrilled to launch our first DoubleTree by Hilton resort in Sri Lanka with the opening of this stunning property which joins our Hilton portfolio in the country. The unique features of the resort, coupled with its location in the heart of Weerawila, make it a prime choice for domestic and international travellers alike," said Paul Hutton, Vice President Operations South East Asia for Hilton.

"I am confident DoubleTree by Hilton Weerawila Rajawarna Resort will be top of mind for those who are looking for an idyllic getaway while seeking the comfort of a well-recognised hotel brand that consistently delivers service that is authentic, reliable and straight from the heart," he added. DoubleTree by Hilton Weerawila Rajawarna Resort is located 25 kilometres from Mattala Rajapaksa International Airport, and is situated within the Weerawila Bird Sanctuary, Kataragama Sacred City, Bundala and Yala National Parks.
Pointing out that the chain is a fast-growing, global portfolio of more than 600 upscale hotels with more than 138,000 rooms across 47 countries, DoubleTree by Hilton Global Brand Head Shawn McAteer shared that over the past decade, the brand has experienced exponential growth, close to quadrupling in size to accommodate the world's thriving economic and business centers and growing tourism industries.

"We are delighted to welcome this great new addition to our portfolio which is ideal for travellers seeking an unrivaled retreat underscored by superior service and hospitality," he said.