---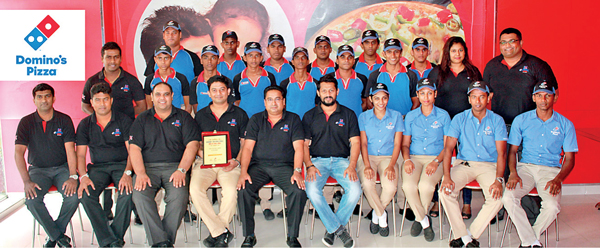 Domino's Sri Lanka has demonstrated exceptional quality to always do better in 'laying out' an outstanding product and service by winning the International 2016 Rolex Challenge.

The Rolex Challenge is a tradition that awards the internationally renowned wristwatch brand to top-performing Domino's stores.

The timepiece is customised by the legendary watch-maker with an engraving of the Domino's logo on the dial. The Rolex Challenge has become a tradition since it was initiated in 1977, when a Domino's Manager in the USAwho had achieved sales of US$ 20,000 in a week, was generously rewarded by none other than its Founder, Tom Monaghan who gave his own Bulova watch in an impromptu act of recognition. Dominos been one of the biggest pizza company's in the world strives to encourage its franchise stores to achieve outstanding performance by accomplishing four consecutive weeks of high sales revenues backed by high service standards. The Rolex Challenge is a worldwide competition among Domino's stores that is vigorously vied for. Domino's Sri Lanka stood up robustly to the challenge and has been acknowledged for its commitment to be the best in theturf. Winning the Rolex Challenge is a feather in Domino's Sri Lanka's cap, an achievement that the company affirms as deserving special recognition.

Domino's Sri Lanka has a significant presence in the country with 21 restaurants has over the years expanded its range ofitems from a wide selection of pizzas, the delightful servings of chicken, mutton and seafood and signature dishes of Hand Tossed Pizza, Cheese Burst Pizza, Fresh Pan Pizza and Thin Crust Pizza to include the remarkable extra-large DOMINATOR pizza and the much sought after range of rice dishes. Dominos Sri Lanka Operation is Headed by Suresh Tissaaratchy (Country Head) & Supported by GM Operation Sashi Mohotti.