---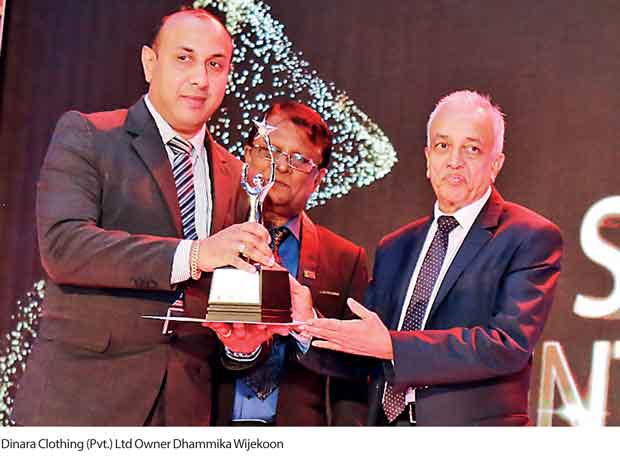 Dinara Clothing (Pvt.) Ltd seized the Silver award in the large-scale category for the Central Province at the Entrepreneur of The Year Awards 2017 organised by Federation of Chambers of Commerce and Industries of Sri Lanka (FCCISL).

Dhammika Wijekoon started Dinara Clothing (Pvt.) Ltd with only eight machines operated by 12 employees.

Wijekoon left his school in the year 1995 and joined Smarts Shirts (Pvt.) Ltd as a Coordinating Officer in 1996. He was incorporated into Ploytex Garments (Pvt.) Ltd in 2001 and left it as a Manager in 2004. He made his move with Dinara Clothing (Pvt.) Ltd in 2006 with a sophisticated knowledge about the industry of textiles.

Dinara Clothing (Pvt.) Ltd markets its products under the brand name DMaxx with the tagline 'Yawwana Wilasitha Lowe Ananthaya'. Nolimit had become its main buyer from 2007. They currently provide their products to the leading showrooms such as ASB fashion, CIB, Richlook and Sriyani. In 2012, Dinara Clothing (Pvt.) Ltd established its main factory in Nugawela, Kandy. Over 500 employees are currently employed at Dinara Clothing (Pvt.) Ltd. They have opened two mega showrooms in Kurunegala and Kandy under the brand name of DMaxx. Wijekoon has been entitled with honorary terms such as Deshashakthi, Deshamanya and Deshabandu in praise over the service he renders to the country by generating a pool of jobs through his businesses. Because of his workable vision in businesses and his personal success, he has been honoured with a doctorate.