---
Mobile, broadband record significant growth
Pay TV cuts losses on improved revenue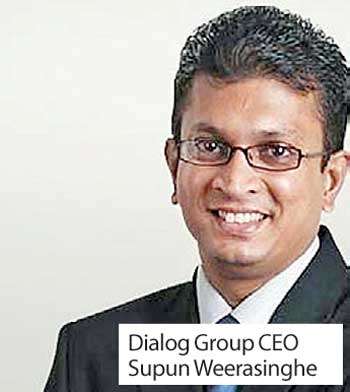 The synchronized improvement in all core business units helped Dialog Axiata PLC to record a healthy bottom line while the group is seen aggressively expanding into financial technology (fintech) space to further diversify its revenue sources and to maintain sustained growth. Dialog Axiata, Sri Lanka's largest celco, reported earnings of 35 cents a share or Rs.2.84 billion for the January-March quarter (1Q18), up 83 percent year-on-year (YoY) on a revenue of Rs.26.08 billion, up by 18 percent YoY.

The direct costs were up 16 percent YoY to Rs.1.86 billion and the group reported operating profit of Rs.4.29 billion, up 48 percent YoY.

Dialog share ended 20 cents or 1.39 percent lower last Friday at Rs.14.20.

In its foray into the fintec space, Dialog towards the end of last year acquired 98.87 percent in Colombo Trust Finance PLC, a licensed finance company with assets of Rs.1.3 billion for a purchase consideration of Rs.1.32 billion.
For the quarter ended March 31, 2018, Colombo Trust Finance reported a loss of Rs.2.95 a share or Rs.34.3 million, substantially up from Rs.3.4 million loss it reported a year earlier.

The company in February announced a rights issue opening on May 25 to raise nearly Rs.600 million to meet minimum regulatory core capital of Rs.1.0 billion.
Meanwhile, during the quarter under review, the Dialog group's key business unit, mobile operations, saw its revenue increasing by a staggering Rs.2.8 billion or 15.4 percent YoY to Rs.21.05 billion.

The operating profit rose by 36 percent YoY to Rs.3.7 billion.

Sri Lanka has five mobile operators but Hutchison Telecommunications Lanka (Private) Limited recently announced it would merge with Etisalat Lanka (Private) Limited, easing competitive pressures on revenues and profits in the industry.

The merger will establish the third largest mobile operator in Sri Lanka but is unlikely to, "threaten any price pressures in the industry or taking market share from the leading players in the short to medium term as they each have struggled to make meaningful EBITDA profits and have high capex requirements," Fitch Sri Lanka said in a note post the merger announcement.

Meanwhile, Dialog Axiata's fixed telephony and broadband business reported 31 percent YoY increase in revenue to Rs.3.2 billion while the operating profit also rose by a significant 69 percent YoY to Rs.683 million.

Sri Lankans increasingly use internet due to affordable data charges and home broadband offers large chunks of free data bundles to surf the net and watch videos at higher speeds.

During the first quarter, Dialog Axiata and Sri Lanka Telecom—the two largest fixed broadband operators—were fiercely competing to grow their home broadband subscriber base with the latter offering up to even 75 percent of free data for its subscribers.

Meanwhile, Dialog Television—the group's problem child, which offers pay TV services—saw its revenues rising by 24 percent YoY to Rs. 1.86 billion and the company was able to cut its operating losses to Rs.82 million from Rs.200 million a year ago.

The company has been trying hard to increase its service's affordability through various pre-paid TV cards.

As the prices in the economy are fast rising, it remains uncertain if the company will be able to maintain its growth during the remaining quarters as pay TV remains a distant consumer discretionary item.

As at March 31, 2018, Dialog's Malaysian parent Axiata Investments (Labuan) Limited held 83.32 percent stake in the company while the State-controlled Employees' Provident Fund held 2.22 percent stake being the second largest shareholder.