---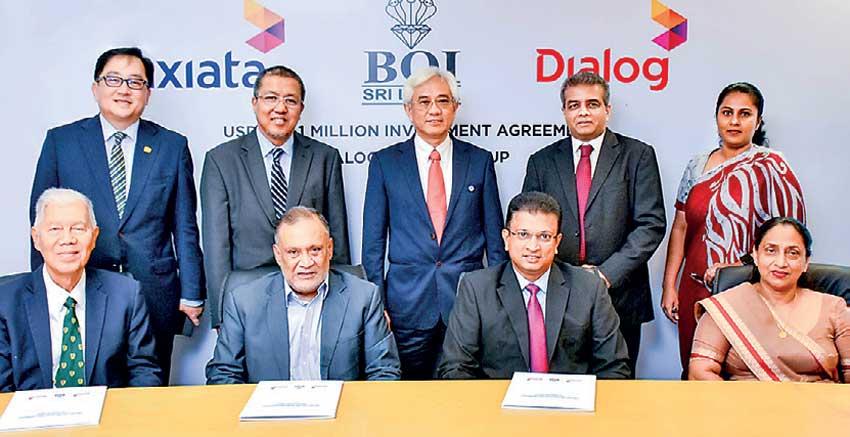 Seated from left: Dialog Axiata PLC Chairman Datuk Azzat Kamaludin, Board of Investment of Sri Lanka Chairman Susantha Ratnayake, Dialog Axiata PLC Director/Group Chief Executive Supun Weerasinghe and Board of Investment of Sri Lanka Director General C. Malalgoda Standing from left: High Commissioner of Malaysia to Sri Lanka Tan Yang Thai, Axiata Group Berhad Executive Director/Deputy Group Chief Executive Officer and Group Chief Executive Officer Designate Dato' Mohd Izzaddin Idris, Axiata Group Berhad Managing Director/President and Group Chief Executive Officer Tan Sri Jamaludin Ibrahim, Axiata Group Berhad Chief Executive Telecommunications Business and Executive Vice President Dr. Hans Wijayasuriya and Dialog Axiata PLC Group Company Secretary Viranthi Attygalle
Dialog Axiata PLC to invest US $ 190.7mn; Dialog Broadband Networks US $ 63.4mn
New investment to position Sri Lanka as a pioneer in 5G technology
The Dialog Axiata group, the largest foreign direct investor (FDI) operating under the aegis of the Board of Investment of Sri Lanka (BOI), has announced entering into two supplementary agreements with the BOI for the investment of an additional sum of US $ 254.1 million (Rs.46.1 billion) in Sri Lanka's ICT Infrastructure.

The agreements were signed on February 14, 2020. The investment comprises of US $ 190.7 million from Dialog Axiata PLC and US $ 63.4 million from its subsidiary Dialog Broadband Networks (Private) Limited.

These agreements span a broad scope of ICT infrastructure development by the Dialog Axiata group encompassing the expansions of mobile and fixed 4G-LTE networks, the evolution of IP and fibre networks and the further development of the group's Wi-Fi and broadband networks.

Moreover, the investment is set to yield significant benefits to the economy through the deployment of 5G connectivity, which will position Sri Lanka as a pioneer in 5G technology.
This will be alongside the submarine cable and landing station development, which will offer more reliable and cost-effective Internet connectivity.

The agreement between Dialog Axiata PLC and BOI was signed by Dialog Axiata PLC Chairman Datuk Azzat Kamaludin, Dialog Axiata Director/Group CEO Supun Weerasinghe and BOI Chairman Susantha Ratnayake.

The agreement between Dialog Broadband Networks (Private) Limited and BOI was signed by Dialog Broadband Networks (Private) Director Supun Weerasinghe, Group Company Secretary Viranthi Attygalle and BOI Chairman Susantha Ratnayake.

The Dialog Axiata group is a subsidiary group of companies of Axiata Group Berhad, Asia's second largest telco with operations spanning across eight countries, including Malaysia, Indonesia, Bangladesh, Cambodia, Sri Lanka, Singapore and India and Axiata has been a committed and long-term investor in Sri Lanka since 1994.
As the largest FDI in Sri Lanka, the Dialog Axiata group has contributed US $ 2.7 billion (Rs.320 billion) to Sri Lanka since 1994, with its investment being 11 percent of the total
FDI of the country.

In this regard, it has been recognised by the BOI as the first company to invest US $ 1 billion in the country.

"We value our partnership with the BOI and are honoured to enter into this agreement today.

Having been here since 1994 as the largest FDI, this fresh investment signals Axiata's long-term commitment to the country and the people. Furthermore, Axiata together with Dialog, are excited to deliver better connectivity and new technologies in Sri Lanka," said Axiata Group Berhad Managing Director/President and Group Chief Executive Officer Tan Sri Jamaludin Ibrahim.

"The local telecom sector has seen remarkable growth, keeping Sri Lanka abreast with and often ahead of the region.

Dialog Axiata has been a key driver of this growth as the largest foreign investor in the country and we are pleased to see the company undertake yet another expansion, which promises advancement in technology and infrastructure," said BOI Chairman Susantha Ratnayake.