---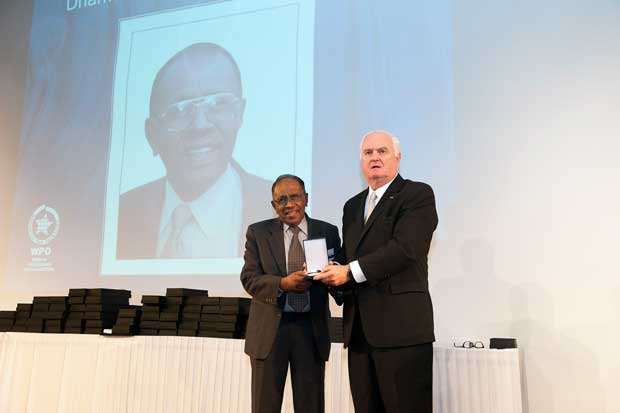 World Packaging Organization President Tom Schneider presents Lifetime Achievement in Packaging Award to Dharmatilake Ratnayake at a ceremony in Dusseldorf, Germany
The World Packaging Organisation (WPO) recently created its Lifetime Achievement in Packaging Award.
The purpose of this award is to recognise practitioners from all corners of the discipline who have made a significant and nationally or internationally recognised contribution in packaging over a prolonged period of time.
In granting this Lifetime Achievement in Packaging Award, the WPO has applied the following criteria: A suitable candidate will have a track record of success of not less than 25-30 years duration in some aspect of packaging, including design, engineering, marketing, science, journalism or another field within the packaging discipline.
Dharmatilake Ratnayake, Chairman, Packaging Development Centre and also the Packaging Sector Advisory Committee of the Ministry of Industry & Commerce, Sri Lanka has been selected by an independent and world-wide group of judges to be one of the first recipients of the WPO's Lifetime Achievement in Packaging Award.
Dharmatilake is a product of Maliyadeva College, Kurunegala. After his secondary education he earned a Bachelor of Science Special Degree from the University Ceylon (Sri Lanka). After a short spell of one year as an assistant lecturer in the university, Dharmatilake was offered a postgraduate scholarship to carry out research on chemistry and pharmacology of local herbs.
However, after two years as a research scholar, during which he published two joint research papers, he opted to change his carrier in the year 1968 to serve the packaging industry as a chemist/quality controller in a multinational company - Acme Aluminium Company (later to be named Acme Printing & Packaging).
Having undergone brief spells of training in all aspects of flexible packing converting operations and aluminium foil rolling in the United Kingdom, India, Japan, Australia and Malaysia, he served this company continuously for a period of 33 years. During this period, he was promoted to the position of Production Manager, followed by Factory Manager until his retirement in the year 2001.
Thereafter, his attachment and love towards the packaging industry made him to continue to keep in touch with the industry and served five companies including a local branch of a German company involved in trading mainly on the packaging industry-related products and four flexible packaging converting companies assisting them to improve their production operations and marketing in various capacities such as Deputy General Manager, Director/General Manager, Consultant/CEO, Technical Consultant, etc. ending up as a freelance packaging consultant in the year 2015 accepting short-term assignments helping the local packaging fraternity. His association with the Sri Lanka Institute of Packaging dates back to 1979 and served as its Secretary, Vice President and finally President for five consecutive years from the year 2000 to 2006. Presently serving as a Member of the Council of Management and acting as Chairman of number of its subcommittees, such as Lanka Star, Training & Education, International Affairs, etc.
He went on to the extent of successfully organising around 16 packaging exhibitions chairing all Lankapak organising committees of the Sri Lanka Institute of Packaging from 1986 to 2014. To his credit it should be mentioned that it was he who introduced the Student Star category for the Lanka Star contest for excellence in packaging during his tenure as the President of the institute.
For a brief spell of two years, Dharmatilake also served the Asian Packaging Federation as its Secretary General in 1991 and 1992 and as its President for three years from 2001 to 2003. Although the maximum period to function as the President was only two years, the members of the Board of Administration of the Asian Packaging Federation amended the statutes permitting him to continue for a period of three years On his stepping down, he was made a honorary member of the federation. The setting up of the College of Honorary Members of the Asian Packaging Federation and the special scheme launched a few months back to recognize the Asian packaging professionals in the Asia Pacific region by honouring them as Certified Asian Packaging Professionals (CAPP) were some of the valuable proposals made by him that were accepted and implemented by the Asian Packaging Federation.
He was an active member of the WPO and served as its Vice President from year 2001 to 2003 and was conferred the Honorary membership of this world body in the year 2010. During his tenure of office as Vice President of the WPO, he was responsible in promoting a category for Student Stars for the World Star Packaging contest and organised the first-ever World Student Star contest in Dubai, fully sponsored by a government organisation in that country.
In addition to the above, Dharmatilake has been holding responsible positions in various other local associations connected to packaging including Sri Lanka Institute of Printing, INGRIN Institute of Printing & Graphics as its Chairman and the National Packaging Centre. In recognition of his service to the packaging industry, the ministry appointed him as Chairman of its Packaging Sector Advisory Committee over the last eight years.
He is presently serving as Chairman of the Packaging Development Centre, which was created by him in 2006 with the support of the members of the Sri Lanka Institute of Packaging as its technical arm. As Chairman of this centre, he has undertaken extensively, training in packaging technology to the local small and medium enterprise (SME) sector throughout the country travelling in almost all the districts with a team of experts, conducting one and two-day seminars which are sponsored by the government and non- governmental organisations.
Dharmatilake was also a consultant to the Business Advisory Services Section of the International Trade Centre, Geneva and a Senior Consultant, China Packaging Federation for World Student Star and Asia Star – Great China Region
He is a leading trainer and a specialist in flexible packaging in Sri Lanka and has been a resource person at a number international seminars and training courses held in Bangladesh, China, India, Indonesia Thailand and Sri Lanka. Dharmatilake has been serving as a visiting lecturer in flexible packaging at the Postgraduate Institute of Science and the Postgraduate Institute of Agriculture, University of Peradeniya. He is presently serving as a Visiting Lecturer in the Integrated Design Department, University of Moratuwa. Dharmatilake is also Chairman of his own trading company floated with his partner serving the local packaging convertors as an indenting agent for foreign manufacturers of raw materials used in the packaging industry.
Dharmatilake's unique record of pioneering services in his chosen field – packaging – for the last 49 years and accomplishing remarkable services will make his name engrossed in the history of the packaging sector forever.