---
Economist Deshal de Mel has been appointed as an Independent Non-Executive Director of Janashakthi Insurance PLC with effect from April 15, 2021.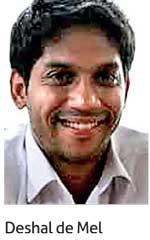 Deshal has experience across government, private sector, and academia. He is a Research Director at Verite Research, a Colombo-based think tank.

He previously served as an adviser to the Finance Ministry, prior to which he worked in the corporate sector as Senior Economist at the Hayleys Group.

He was a Commissioner at the Securities and Exchange Commission in 2018, 2019 and has served on a number of corporate and non-corporate boards.

Currently he serves as an Independent Non-Executive Director on the boards of Sapath Bank PLC, Capital Alliance Investment Limited and TNL Radio Network (Pvt) Ltd.
Deshal has a Bachelor of Arts degree in Economics, Philosophy and Political Science from the Oxford University, UK and a Master's degree (MSc) in International Political Economy from London School of Economics and Political Science.