---
AFP: President Donald Trump's pick to serve as the chief US financial markets regulator defended himself Thursday against charges his career as a Wall Street lawyer could hinder his ability to oversee the industry effectively.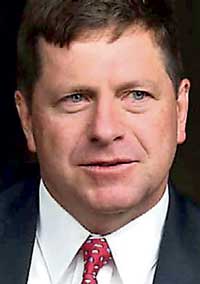 Nominated to head the Securities and Exchange Commission, Walter "Jay" Clayton's clients have included major financial institutions such as Goldman Sachs, Barclays and Deutsche Bank.
But during his Senate confirmation hearing, he pledged he would leave "zero room" for financial wrongdoing in US capital markets.
Clayton's nomination to lead the SEC comes Trump has promised to dramatically scale back all types of regulation which he says hinders business.
That has led to heated controversy over alleged conflicts of interest arising from the business interests of Trump and other officials, including of famed activist investor Carl Icahn, who is advising the White House on the regulatory overhaul.
Trump notably promised to "do a number" on the 2010 Dodd-Frank Wall Street reform legislation, which imposed tougher safeguards on banks and the financial industry in response to the 2008 crisis.
Clayton, who is expected to win confirmation from the Senate's Republican majority, said he had "no specific plans" to attack Dodd-Frank, but would support a review of existing rules to see whether they have been effective.
He also said he would enforce securities laws strictly.
"I have zero tolerance for bad actors," Clayton said. "I'm not only saying it here. I will say it to the staff at the SEC. I will say it to my fellow commissioners."
Clayton acknowledged that after being tapped to lead the SEC he met with Trump advisor Icahn, who has significant holdings in oil, pharmaceuticals and the dietary supplement company Herbalife, which is reportedly facing an SEC investigation.
Democratic Senator Elizabeth Warren of Massachusetts said Icahn was in a position to influence policy to his benefit, and she raised the possibility of insider trading, noting that Icahn could gain advance knowledge of regulatory details potentially affecting his holdings in the drug company Bristol-Myers Squibb.Clayton, who describe the discussion with Ichan as an exchange of general views with "no specifics," said it was proper to meet with market participants but that meeting with people subject to investigation was another matter."That is something that needs to be navigated very carefully," he said. "It may be that it's completely inappropriate to talk to somebody."Warren also said the SEC's effectiveness could be undermined since Clayton's long list of powerful clients at Wall Street law firm Sullivan & Cromwell likely would require him to recuse himself from many cases that come before the commission.
Without a chair to cast a tie breaking vote, the remaining four commissioners could deadlock if they vote along party lines, therefore preventing the SEC from enforcing the law, she warned.
In addition to the chair, the SEC has commissioners from each party, Democratic and Republican.
"Any reasonable strategic company that wanted to avoid an enforcement action could simply hire Sullivan & Cromwell and then you couldn't vote for enforcement," Warren said.
"If President Trump wanted to make sure that the SEC would have a hard time in going after his Wall Street friends you would be the perfect chair."
Warren cited media reports saying former SEC chair Mary Jo White had to recuse herself no fewer than 48 times due to conflicts of interest arising from her own former clients and her those of her husband.
Clayton's conflicts were potentially worse, Warren said.
But he said his recusals would not necessarily hinder the commission's work.
"The question of whether I'm recused from a matter doesn't mean there will be deadlock," he said.