---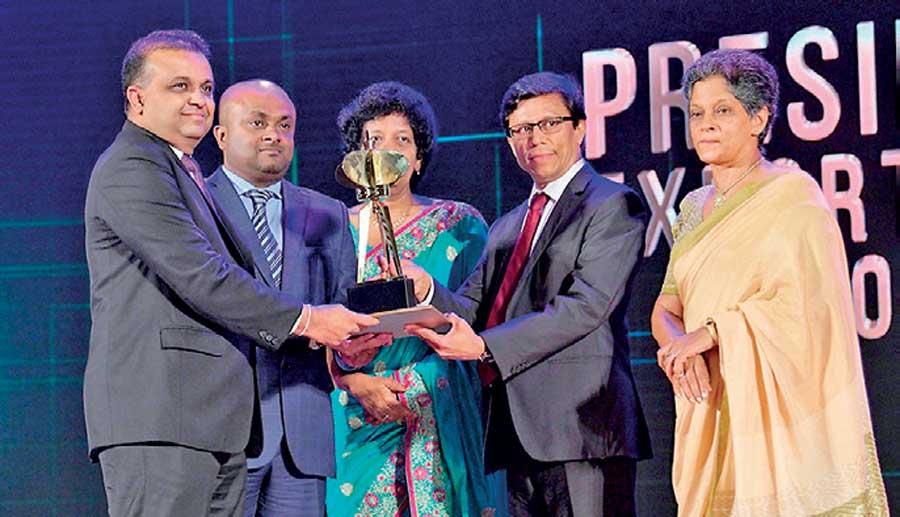 From left: Dr Sajeeva Narangoda, Director/Chief Operating Officer Millennium IT ESP and Chief Investments and Process Officer Ambeon Holdings PLC, the holding company of Dankotuwa Porcelain PLC , Channa Gunawardana, Chief Executive Officer, Dankotuwa Porcelain PLC, Jeevani Siriwardane Director General, Sri Lanka Export Development Board, Nimal karunathilake, Director General, Department of Commerce Sri Lanka Export Development Board and ndira Malwatte Chairperson & Chief Executive, Sri Lanka Export Development Board
Dankotuwa Porcelain PLC was adjudged as Best Exporter in the Porcelain and Ceramic category at the recently concluded Presidential Awards 2018/19.

Globally recognized for its luxurious and elegant porcelain tableware – one with remarkable whiteness that radiates a sense of pristine beauty, Dankotuwa Porcelain continues to win the hearts of millions around the world and homes in Sri Lanka.

"It is with great pleasure that I accept this award on behalf of the management and team of Dankotuwa Porcelain PLC," said Dr. Sajeeva Narangoda, Director/Chief Operating Officer Millennium IT ESP and Chief Investments and Process Officer Ambeon Holdings PLC, the holding company of Dankotuwa Porcelain PLC.

"For Dankotuwa, the year 2018/19 was a period of strategic consolidation, organizational transformation and prudent expansion into both local and global markets amidst all the uncertainties that organizations experienced in general within the local and global business arenas.

"As part of this transformation and market expansion, a global marketing strategy was mooted and executed with the objective of expanding Dankotuwa's footprint across various markets. This accolade is testimony to the fact that our executions have been successful and are finally bearing fruit. Dankotuwa has been finally recognized for its contribution towards the development of the nation as an entity that imprints Sri Lanka's presence on the global map".

Commenting post, the winning of this accolade, Channa Gunawardana, Chief Executive Officer of Dankotuwa Porcelain PLC said, "Having been highlighted for being a positive role model for local manufacturing in generally, and helping elevate the profile of the local Ceramic and Porcelain products sectors, specifically; we are truly touched by this great honour. The last financial year has been a game changer for Dankotuwa. While we welcomed new customers and renewed relationships with old partners, the company reaffirmed its partnership as a cobranded entity with a partner within the Middle Eastern region.

"This was indeed an essential first step in establishing the Dankotuwa brand overseas. With initiatives of this nature, Dankotuwa will continue expanding its presence far and wide, creating sustainable partnerships across the markets it chooses to operate. This award is a testimony of the commitment and perseverance of many stakeholders; hence the award goes to all staff and other key stakeholders.

A subsidiary of Ambeon Holdings PLC and the recipient of the bronze award in the catering products/tabletop specialties category at the prestigious European Product Design Awards (ePDA) 2017, the elegance, sophistication and superiority of Dankotuwa Porcelain has earned for the company a reputation for being the best.

"As one of Sri Lanka's top suppliers of Porcelainware for exports, Dankotuwa Porcelain is a vital and valuable part of the Ambeon Group," stated Murali Prakash, Group Managing Director and Chief Executive Officer of Ambeon Capital PLC and Ambeon Holdings PLC.

"As an organization, Dankotuwa will continue expanding, constantly evolving and challenging itself to go beyond business as usual, which is especially important in today's highly competitive business environment and as a brand continues its quest for innovation by launching products consisting of timeless designs, giving customers value for money in every purchase they make. I am confident that this is just the first of many accolades the company will receive as it continues its winning formula within the months to come".