---
It is the end of an era at David Pieris Motor Company as Sumith Cumaranatunga hangs up his hat as Chairman after helming one of the most dynamic and transformative players in the motor industry in Sri Lanka.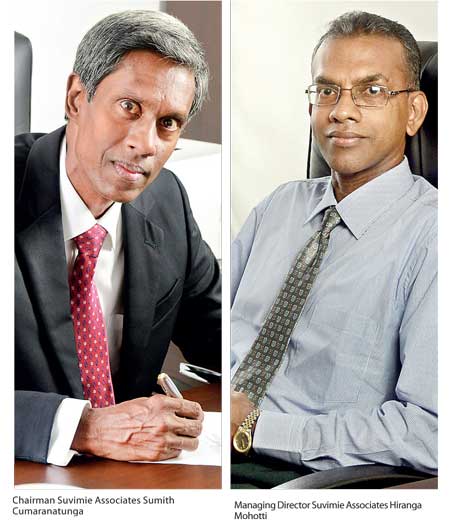 Having begun his career at Richard Pieris & Company in 1985 as the first Accountant at RPMC, just three months after the company had been incorporated, together with David Pieris, who was Executive Director of RPMC prior to the formation of DPMC in 1994, Cumaranatunga took Bajaj Three Wheelers and eventually Bajaj motorbikes to meteoric heights. His absolute belief in the product and the fearlessness in venturing into the unknown with that belief prompted Rakesh Sharma, President International Business of Bajaj Auto to commend Cumaranatunga saying, "A big thank you for steering the business so skillfully and seemingly effortlessly, to such a dominant leadership position."

While crediting DPMC for shaping him, moulding him and creating him, Cumaranatunga looks back with pride at his legacy; a Group of Companies with a net profit of Rs 10 billion, which was transformed from a relatively small business unit in a single location, to a diversified conglomerate with islandwide reach, now among the most profitable companies in Sri Lanka. One of the longest serving employees of DPMC, Cumaranatunga's sheer hard work, determination and quiet leadership persona, saw him rise to become the youngest General Manager in the Group at 29, an Executive Director two years later, Managing Director, Deputy Chairman & Managing Director and eventually Chairman & Managing Director in 2009.

Looking back at his thirty years, of which twenty four were on the Board of Directors, Cumaranatunga says, "To grow this Company to what it is today was accomplished through visionary leadership, innovative strategizing and professional management, all of which motivated a fabulous team of disciplined individuals to aspire to high standards, overcome numerous challenges and consistently deliver outstanding results."

Having retired prematurely from DPMC, Cumaranatunga has always wanted to do something more for Sri Lanka at which time, his inherent entrepreneurial spirit kicked in. Cumaranatunga now chairs Suvimie Associates, a company specializing in marketing and exporting Sri Lanka products including virgin coconut oil, a range of spices, blended teas and varieties of traditional rice, while also promoting eco-tourism. Catering to countries in nearly all the continents, the USA, Asia, the Middle East and Asia-Pacific, Cumaranatunga puts his leadership and negotiating skills to good use, integrating with local communities that produce and process products for export. "Our ethos is about promoting products and places of Sri Lanka, serving global markets and local communities," he says, adding that Suvimie takes seamless integration to a different realm. "The seamless integration we have with the local community of producers and processors enables us to garner vital linkages, but we go a step further. We also provide the necessary capital, essential managerial expertise and logistical efficacy."

Suvimie Associates has a dynamic group of professionals with proven track records as spearheads; Management specialist Hiranga Mohotti as Managing Director and Accounting professional Gokula De Alwis and former Banker Upendra Cumaranatunga as Directors. As Mohotti mentions, "While Suvimie is led by some of the industry's most respected and experienced individuals whose strong business acumen gives customers confidence that excellence in products, service and delivery is paramount, the experience we have in a well interlinked backward integration system to ensure continuity and consistency, a professional and personalised service, efficiencies and speed of delivery at all levels and the knowledge of global markets undoubtedly gives us a definite competitive edge."