---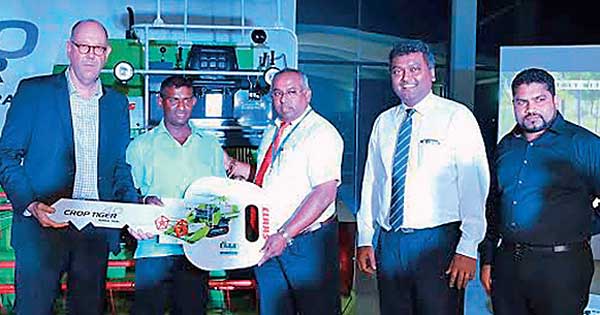 CLAAS Asia Regional President Dr. Jens Oeding (left) and DIMO CEO Gahanath Pandithage on either side of the CLASS Crop Tiger 40 Terra Trac. Pic by Pradeep Pathirana
With a view of increasing productivity in the agricultural sector, Diesel and Motor Engineering PLC (DIMO) this week expanded its agricultural machinery portfolio by launching the DIMO Agri brand this week. "It is important that an ambitious company like DIMO expands its presence in different areas of the local agriculture sector,"
DIMO Chairman/Managing Director Ranjith Pandithage said. He added that the company will strive to provide next generation equipment for local farmers. DIMO Agri Special Projects General Manager, Priyanga Dematawa said that if local farmers were to use the latest agricultural machinery and processes, paddy yields could be increased from the current 4.4 metric tonnes per hectare to 10 metric tonnes per hectare
He added that other crop yields could also be increased in a similar fashion. "With the population increase, there are more mouths to feed, but the same resources and land," Dematawa said. He noted that with more Sri Lankans entering the middle income bracket, consumption of meat will increase, instead of grains. "So we need 8 kg of grain for a kilo of beef, 5kg of grain for a kilo of pork and 2kg of grain per kilo of chicken.
So while we eat the same 1kg of grain, we have to feed more to animals," he pointed out. However, Dematawa noted that with more people moving out of agriculture to other sectors, there won't be enough manpower to handle the increased farming requirements, thereby making automation the rational solution. Automation is also expected to save up to 50 percent of seeds, facilitate organic farming and increase land utilization.
To bridge the gap, DIMO launched 3 lines of products this week. The German CLASS Crop Tiger 40 Terra Trac, a host of weeders from India's Garuda Farm Equipment, and two new Mahindra Tractors named NOVO and YUVO, will complement the existing line-up of CLASS and Mahindra products. Dematawa said that farmers can obtain favourable financing options from banks to purchase the products offered by DIMO. He added that DIMO will work towards introducing products to automate the entire agricultural supply chain.