---
The third'CMA Excellence in Integrated Reporting Awards –2017'awards presentation ceremony was held on 17th of July at Cinnamon Lakeside, Colombo in line with CMA National Management Accounting Conference under the theme of 'Digital Transformation – A new Strategic Imperative'.
The Overall Winner for the Gold Trophy was Diesel and Motor Engineering Co. Plc., the Overall 1st Runner Up John Keells Holdings Plc, winning the Silver award and Overal 2nd Runner up Peoples Leasing and Finance Plc. winning the Bronze Award.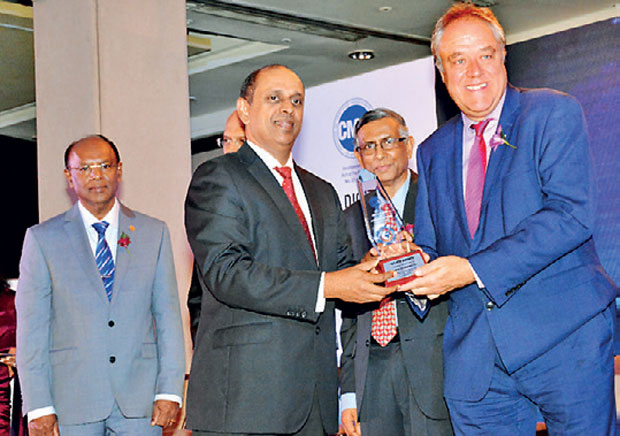 The First Runner up was 'John Keels Holding PLC' and the Silver award was received by Mano Rajakariar (Executive Vice President of JKH) from the CEO of the International Integrated Reporting Council, Richard Howitt
The awards were presented by theChief Executive Officer of the International Integrated Reporting Council (IIRC), Richard Howitt and associated with him was Prof. Ho Yew Kee Associate Provost of Singapore Institute of Technology, Graham Terry, an expert in Integrated Reporting from South Africa, Wasantha Deshapriya Secretary Ministry of Telecommunications and Digital Infrastructure, Ravindran Devagunam CEO Of the International Strategic Cooperation Unit (ISCU) under the Prime Minister of Malaysia, President of CMA Prof Lakshman R Watawala, and other distinguished representatives from the Industry, Commerce and Banks, as well as Professionals, academia both local & foreign.
The selection process of CMA Excellence in Integrated Reporting Awards was based on two phases, first being the short-listing of companies by a panel of technical evaluators and second being the final judgment by both local & foreign judges. As an innovation CMA introduced a new awards category for five business sectors and an overwhelming 40 companies applied for the competition this time.
The Award winners at the CMA Excellence in Integrated Reporting Awards are as follows;
Overall Winner:

Diesel & Motor Engineering PLC
First Runner-up:
John Keells Holdings PLC
Second Runner-up:
People's Leasing & Finance PLC
Best Concise Integrated Report:
Diesel & Motor Engineering PLC
Ten Best Integrated Reports
Citizens Development Business Finance PLC, Diesel & Motor Engineering PLC ,Hattan National Bank PLC, John Keells Holdings PLC, L B Finance PLC, National Development Bank PLC, People's Leasing & Finance PLC, Soft Logic Life Insurance PLC, Sri Lanka Telecom PLC, Talawakelle Tea Estates PLC and The Lanka Hospitals Corporation PLC
Sector Awards:
Banking:National Development Bank PLC
Finance & Insurance:People's Leasing & Finance PLC
State Owned Enterprises / Companies:Sri Lanka Telecom PLC
Industry & Commerce:Diesel & Motor Engineering PLC
Small & Medium Enterprises: People's Insurance PLC
Best First Time Integrated Report Award:
Lanka IOC PLC
Certificates of Merit:
Dipped Products PLC, HNB Assurance PLC, Lanka IOC PLC, Nations Trust Bank PLC and People's Insurance PLC
Certificate of Merit - State Owned Enterprises / Companies:
People's Bank and Bank of Ceylon
Certificate of Merit - Small & Medium Enterprises:
Ceylon Tea Brokers PLC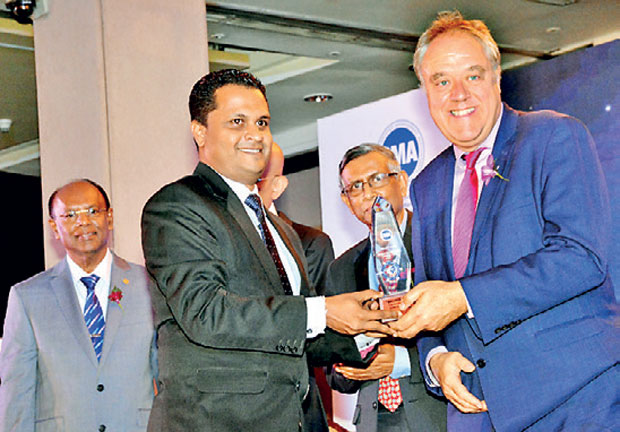 The Second Runner-up was 'People's Leasing & Finance PLC'and the Bronze award was received by Omal Sumanasiri (Senior Manager – Finance, People's Leasing) from the CEO of the International Integrated Reporting Council Richard Howitt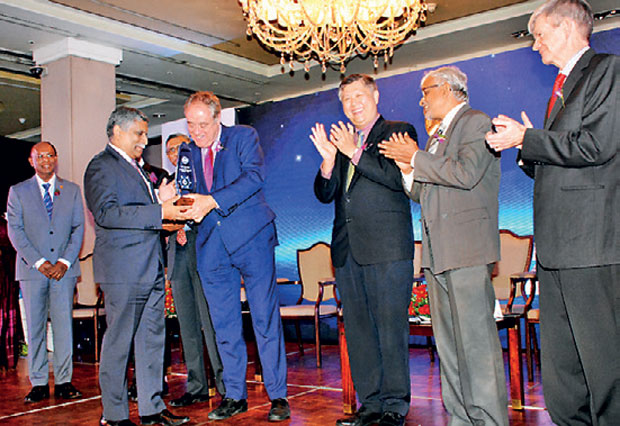 The Overall Winner was 'Diesel & Motor Engineering PLC' and the Gold award was received by Suresh Goonaratne (Chief Financial Officer of DIMO) from the CEO of the International Integrated Reporting Council, Richard Howitt