---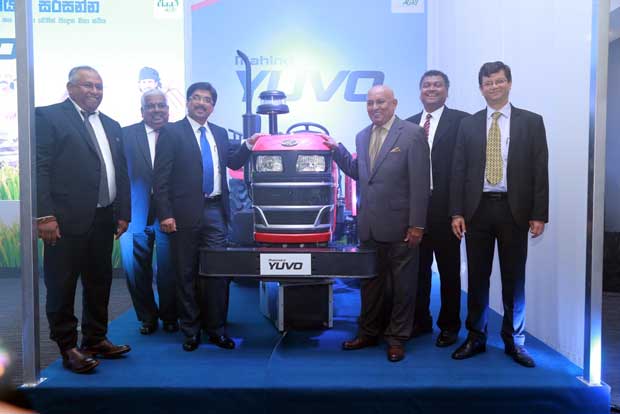 By Zahara Zuhair
Diesel & Motor Engineering PLC (DIMO), together with India's Mahindra & Mahindra Ltd's Farm Equipment Sector (FES), launched the new range of tractors - Mahindra Yuvo to the local farmers recently.
Group CEO Gahanath Pandithage said that after doing a few testings they introduced this product to the local market and they have brought in 1,000 units which will be priced at Rs.1.7 million.
This is the fifth tractor module DIMO and Mahindra are launching together in Sri Lanka and will be introducing two more modules within this year.
Pandithage said that they have been selling 300-400 tractors monthly.
The features of the product as noted were: it is extremely versatile and can be used across more than 30 different farming applications and it boasts of more coverage, faster operations and better quality of work.
Moreover, it was noted that Yuvo's advanced technology helps serve the diverse needs of rural and local farmers, from land preparation to harvesting as well as post-harvesting requirements and helps them do more, faster and better.
Mahindra & Mahindra Ltd Vice President/Head of International Operations AFS South Asia Sanjay Jadhav said that Yuvo is one of the most versatile Agri Specialist tractors currently available in the market.
"This is a superior tractor; it will help the farmers, benefit them for better productivity, better yield and low maintenance," he said.
"Mahindra Yuvo has been designed based on consumer insights from varied farming applications across different countries," he said.
Jadhav said that this product was introduced in India in December 2016 and they have sold 26,000+ units so far.
He said that the Sri Lankan market is very competitive and they currently hold the number two position with close to 19 percent of market share.
He further said they are working towards boosting their market share in Sri Lanka. "Improving the market share means making your product popular among the buyers. It is all about how you are able to convince the farmers why to buy. We are also manufacturing implements, so the tractor coupled with implements will help to further enhance. So we and the DIMO team will be working closely in terms of reaching the famers and helping the farmers," he said.
He said they also plan to work with the local agriculture ministry to improve productivity through mechanisation.
He said that what the farmers do manually currently, by offering this innovative tractor they intend to provide solutions from land preparation to sowing. He said that just like the prosperity centres India has to help its farmers, they will be having discussions with the ministry to have few prosperity centres in Sri Lanka as well.
"The farmers in this centre can come with the soil, so we test this soil in a laboratory. The agronomist guides the farmers. So we want to work on this, at least to have a few prosperity centres in Sri Lanka," he said.
DIMO Chairman and Managing Director Ranjith Pandithage said that with this new offering, DIMO aims to take a leap in providing modernized farming solutions, with better output and more income.
More features of the tractor as noted were: Mahindra Yuvo's advanced transmission offers a unique 12F x 3R gear box, offering multiple speed choice to farmers while using any implement. A full constant mesh gear box along with an ergonomically designed, car-like side shift gear system makes driving effortless. Planetary reduction in Yuvo makes it a very robust tractor. The operator platform and deluxe seat, levers and pedals designed for easy reach and minimum efforts, will allow long hours of fatigue-free working for the farmers.
DIMO is the only authorized distributor for Mahindra Tractors in Sri Lanka, spanning a relationship of 27 years.