---
By Shabiya Ali Ahlam
DFCC, having undergone a 'painstaking' amalgamation process to become a stronger entity, its chief expressed confidence in the bank evolving to allow the stakeholders to reap benefits from the range of innovations, for which plans are afoot.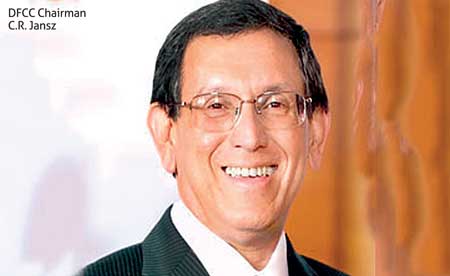 Pointing out the newly merged bank is witnessing a paradigm shift along with new thinking pervading the internal mind-set, DFCC Chairman C.R. Jansz said, "With these and other initiatives planned, a 'new' DFCC Bank is being forged and is well-positioned to deliver exceptional value to all stakeholders. Dynamism and innovation are feeding into the bank's processes, most importantly in the areas of customer service and delivery."

In his message at the bank's latest annual report, Jansz stressed with 2015 being the year that laid the groundwork for the future, DFCC continued to gather pace although the nine-month results were impacted, to some extent, by the less than favourable interest rate scenario that prevailed in the market.

"Now that we are a fully-fledged commercial bank, every effort is being made to rapidly grow our CASA ratio, and lower the cost of funds, which will in turn raise the net interest margins," he stated.

Jansz added that DFCC would continue to provide long-term development finance and stand ready to continue its dominance in this field in the years ahead, with the ability to now provide clients with the full gamut of services, which was unable to be extended previously unless an account with Vardhana was opened.

It was stressed that corporate and retail banking, trade financing, PFS loans and other would continue to be handled speedily and efficiently.

"Plans to increase the fee-based income have been put in place to offset the lower net interest margins we foresee continuing in 2016. A tight control of expenses will be maintained while concentrating on increasing efficiency and productivity," he shared.

Highlighting the future plans, DFCC Chief Executive/Director Arjun Fernando noted the bank would embark on an ambitious five-year strategic plan that would reposition the entity in the upper quartile of the banking industry.

"It will be a blue ocean strategy based on sustainable new elements. These include diversification of distribution channels, increased use of digital media and an expansion into foreign markets," said Fernando while acknowledging the international move will be challenging.

Fernando stressed although the bank is keen on expanding its borders, it would not lose sight of its local roots or development banking mandate.

DFCC's net profit after tax for the period ended December 31, 2015 was Rs.1,642 million (group) and Rs.1,068 million (bank) while that for the financial year ended March 31, 2015 was Rs.4.439 million and Rs.3,240 million, respectively.