---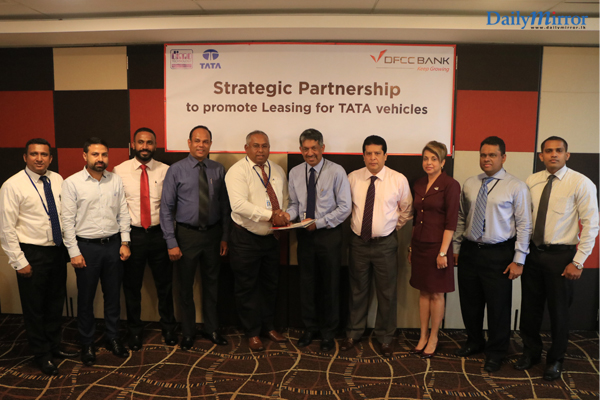 L-R Sampath Kumarasinghe - DGM - TATA commercial vehicle sales, Madu Singh - Country Manager - TATA Motors, Nalinda Kurukulasooriya - GM - TATA commercial vehicle sales, Vijitha Bandara - Director DIMO, Gahanath Pandithage - Group CEO DIMO, Arjun Fernando – CEO DFCC Bank, Lakshman Silva Deputy CEO – DFCC Bank, Gillian Edwards – Senior Vice President, Consumer Banking, Bhathiya Alahakoon, Senior Vice President, Branch Banking and Rasika Senaratna, Manager – Retail Assets and Leasing.
DFCC Bank recently signed a Memorandum of Understanding (MoU) with Diesel & Motor Engineering PLC (DIMO), to facilitate the leasing of Tata Vehicles at an affordable price, to customers across its branch network. The MoU was signed by the CEOs of both organizations, at a gathering that took place at the DFCC Head Office. DIMO is The Authorized Distributor for TATA vehicles in Sri Lanka. Through the leasing partnership, customers will be given special offers on selected Tata lorries, pick-ups, heavy duty trucks and buses.
Tata Motors is India's largest heavy commercial vehicle manufacturer and is ranked among the world's top five global manufacturers in that particular category. As The Authorised Distributor for Tata Vehicles in Sri Lanka, DIMO offers a wide range of Tata Commercial Vehicles for different applications. The new partnership will ensure that Sri Lankan customers are able to lease or purchase a good quality vehicle, with minimal hassle and at a reduced cost. Tata Motors India and DIMO have a strong relationship spanning more than 56 years, and Tata commercial vehicles have played a vital role in the daily lives of many Sri Lankans. DIMO - Tata currently operates with more than 40 branches across the country to offer Tata Sales, Service and Genuine Spare Parts and provides 24-hour roadside assistance to Tata customers across Sri Lanka.
Commenting on the partnership, Arjun Fernando, CEO of DFCC Bank said: "We are pleased to join hands with DIMO as this partnership enables us to offer added value to our customers, whilst simultaneously expanding our leasing portfolio. The Tata range of vehicles are much-sought after by a wide segment of customers for their day-to-day and commercial use, and we hope that this new aspect of our offering will help our valued customers to meet their aspirations and grow from strength to strength. DFCC Bank is dedicated to enriching the lives of our customers, and we continuously strive to build our portfolio and enhance our overall offering to meet their needs."
Gahanath Pandithage, Group CEO of DIMO, added: "DIMO is pleased to enter into this strategic partnership with DFCC Bank. We are confident that this Special leasing offer will be an ideal financial solution for our Tata customers. Apart from providing versatile and economical transportation solutions for our Tata customers, DIMO always keen on adding more value to our customers through these kind of partnerships.
DFCC Bank continuously strives to create sustainable value for all of its stakeholders whilst providing its valued customers with a comprehensive range of innovative financial solutions. Dedicated to spearheading financial inclusivity, DFCC Bank strives to offer solutions that empower and enrich the lives of its valued customers across the nation.